Let's face it: designing graphics on a PC is much simpler than on a smartphone. There are a plethora of Windows applications out there that will allow you to access whatever drawing tools you choose. Things get a little more difficult on Android. It's not that there aren't any sketching apps on Android, but most of them are expensive and lack essential features. We'll look at some of the best drawing apps for android free that are currently available in the Google Play Store.
List of best drawing apps for android free
You can utilize these tools to develop your unique works of art. You can also use these applications to hone your drawing abilities. These applications are yours to use as you see fit. Let's look at some of the best drawing apps on Android.
With Easy Drawing, Android users can get their hands on a free drawing book for children. The Android drawing program includes step-by-step instructions for creating attractive cartoons like unicorns and love-themed drawings.
Beginners and those who want to learn how to draw can use this program. You'll see easy animations showing how to make cartoons and other characters like animals and plants, as well as comic books and anime.
FlipaClip is the only Android app you'll need to make frame-by-frame 2D animation. This program is a great place to start if you're looking to produce your distinctive animation style!
Because of the application's simple interface, it's easy to draw and animate with it. All in all, this is an amazing Android app for drawing and animating in 2D.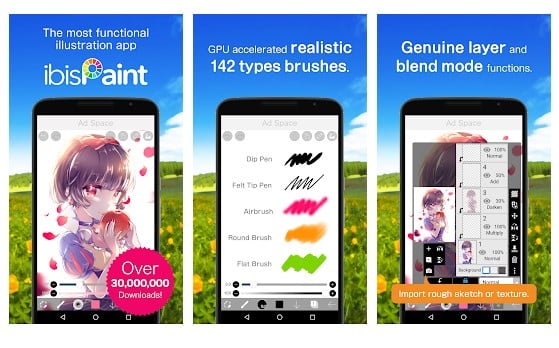 No other drawing program comes close to ibis Paint X in terms of features. It's one of the most flexible and best drawing apps for android free. ibis Paint X's advantage is that it provides all the materials and tools needed to create art.
ibis Paint X has more than 2500 drawing materials, 800 typefaces, 381 brushes, 71 filters, and 46 screen tones.
MediBang Paint is a free, lightweight Android app that you may use for digital painting and comic book production.
What the heck was that all about? You can find many brushes, fonts, readymade backgrounds, and other drawing tools in MediBang Paint. MediBang Paint, despite being a lightweight tool, is difficult to use.
You may use this app to turn your phone into a digital sketchbook. That's true to some extent. A smudge tool and an advanced eraser are included in the application for this reason.
The software is easy to use and does not include any unnecessary features. PNG, JPG, and PSD files can both be imported and exported.
On Google Play, there's another excellent free drawing app. In addition to layer-based modifications and five various pen tips, Adobe Illustrator Draw's strongest feature is its wealth of editing capabilities.
However, because of its intricacy, Adobe Illustrator Draw is not recommended for users with little to no experience. On the other hand, Adobe Illustrator Draw may be the best alternative for picture modification.
PaperColor, a new Android drawing app, is now available for download and usage. There are so many photo editing options available to PaperColor users, including layer-based editing and humorous effects, that it's truly remarkable.
What the heck was that all about? Users can also input transparent photographs using PaperColor's photo-input mode. Using this method, you can go back to the initial snapshot and follow its path.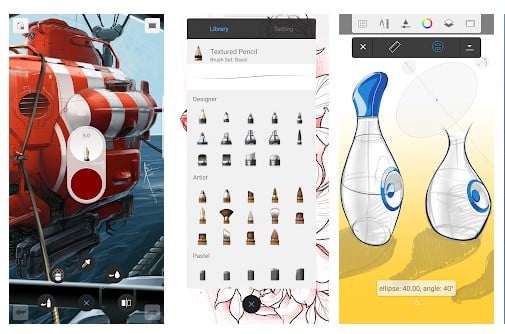 Sketchbook may be the ideal choice if you're looking for an Android drawing app with a wide range of brushes and a robust collection of features.
A 250 percent zoom, three layers, and six mixing options are Sketchbook's most impressive features. For a beautiful sketch, these are the essentials.
Consider MediBang Paint when looking for a wonderful, simple, and fast digital painting program for your Android phone or tablet. What the heck was that all about? Using MediBang Paint, anyone anywhere can draw anything at any time.
Illustrators and comic book designers can use the application to access various creative tools. Brushes and typefaces are included in MediBang Paint's collection of pre-made backdrops.
If you're seeking an Android app to let you sketch, draw, and paint like never before, check out Artecture Draw, Sketch, Paint. What the heck was that all about? Using the tools in Architecture Draw, Sketch, Paint, you may make your photos look even better.
Aside from drawing rapid architectural sketches and caricatures as well as watercolors and illustrations using Artecture Draw & Sketch, you can also take notes.
These are the best drawing apps for android free. That's all I've got for you today, folks. Please spread the word to your contacts as well. In the comment box below, please share any similar programs you've encountered.