Since its inception, WhatsApp has undergone significant development, and now it provides the great majority of features desired by its users. It's a form of instant messaging that lets you talk to your friends and family in real-time and share your location, photos, and more. New features in the latest version of WhatsApp allow for vanishing messages and compatibility with more devices. WhatsApp online users also have the option of extending the functionality of the app using add-ons for their web browser. You may find a wide variety of WhatsApp addons in the Chrome Web Store. WhatsApp online can have its capabilities greatly enhanced by installing these add-ons. Therefore, in this article, we will present a list of the best WhatsApp add-ons you can use right now.
List of 10 Best WhatsApp addons You Should be Using
These WhatsApp addons were available in the Chrome store, so keep that in mind. That's why you may use them in Microsoft Edge or any other browser that uses the Chromium engine. So, let's check out the add-ons, shall we?
Although Chrome extensions can expand WhatsApp Web's functionality, doing so isn't always recommended. Numerous people have reported having their accounts terminated after using these Chrome extensions. You should know that you are doing so at your own risk using these extensions.
The Notifier for WhatsApp Web add-on is a must-have for everyone who uses the web version of WhatsApp. With this Chrome extension, you won't need to visit the WhatsApp website to receive notifications; they will appear directly in your browser.
Installing the Notifier for WhatsApp Web extension on Chrome will free you from the monotony of always having a separate tab open for WhatsApp Web. Because of this, Notifier for WhatsApp Web is an excellent Chrome plugin that WhatsApp Web users shouldn't miss out on.
While the other solutions on our list enjoy greater popularity, EazyBe is still one of the best WhatsApp extensions for Chrome.
The WhatsApp web app is improved in many ways by the EazyBe chrome extension. After adding the extension, you'll be able to schedule messages, categorize conversations, create rapid replies, establish reminders, and much more.
Use this Chrome add-on to send text messages to unknown phone numbers, prioritize chats, and more. If you use WhatsApp, you should start using the EazyBe add-on immediately.
The WAToolkit Chrome extension is one of the best since it includes several simple but helpful features for using the WhatsApp web client.
Chrome's WhatsApp add-ons improve the messaging app by adding features like persistent desktop alerts and a dedicated WhatsApp button in the browser's toolbar. Additionally, the add-on barely registers on your computer's resources and has zero effect on speed.
You can add the innovative Multi Chat as a special browser extension to your computer. It makes it possible to use WhatsApp and other messaging apps within a browser.
You can check and reply to messages sent over various messaging platforms, including WhatsApp web, Telegram web, Slack desktop, Line, Instagram direct message, and WeChat online through Multi Chat.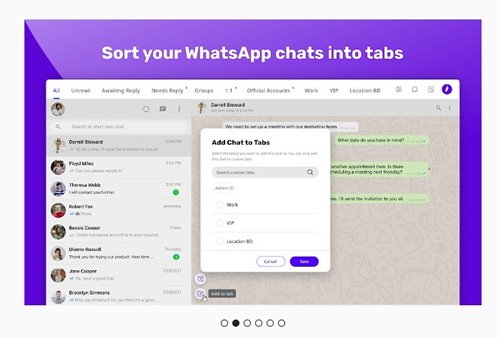 Cooby will be invaluable if you often send and receive many WhatsApp messages. This Chrome extension connects you to WhatsApp on the web and helps you keep track of your conversations in separate windows.
After you've installed Cooby, it will neatly separate your WhatsApp conversations into tabs. By way of illustration, it has a new Unread section where you may go over your unread messages. In a similar vein, you'll see separate tabs for conversations that need a response from you.
WA Web Utils is an extension for Google Chrome that allows users to send several WhatsApp messages simultaneously. This Chrome add-on allows you to easily and quickly communicate with your clients, contacts, and potential prospects from your desktop computer.
Using this extension's capabilities, you can create business-related message templates.
All WhatsApp online users should also use WA Web Plus, an excellent Chrome addon. If you use WA Web Plus, you can hide your typing status, see your status in private, hide photos, and more.
All of WhatsApp's missing features have been brought to the Chrome extension, making it suitable for personal and corporate use.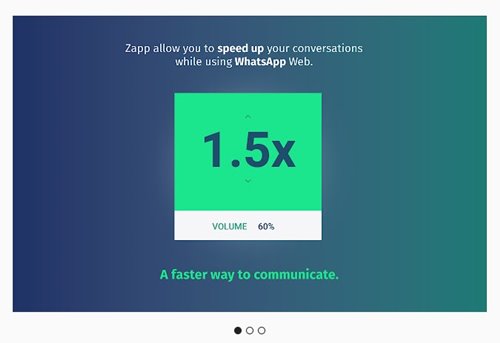 Zapp may be the perfect plugin for you if you handle a lot of audio recordings on WhatsApp online. It improves the web version of WhatsApp by incorporating audio controls.
This plugin gives you control over the volume of WhatsApp voice messages. Modifying the recording's tempo and volume are just two examples.
You should always enable Privacy Extension whenever you're using WhatsApp online in a public place where someone might be able to peek over your shoulder. One such add-on is WhatsApp's Privacy Extension for the contact list, which hides interface elements until the user hovers over them.
Once installed, it hides the conversation thread, media, input field, and profile pictures. When you move your mouse over the hidden sections, they will become visible.
WAIncognito is an extension for Google Chrome that conceals your own last seen and read receipts while displaying those of other users. Using this add-on, you can secretly observe conversations without alerting the other participants.
Moreover, the addon prevents WhatsApp's last viewed status from being displayed to other users.
These are the best whatsapp addons for Chrome that might help you out with WhatsApp. The vast majority of the extensions discussed in the piece may be downloaded from the Chrome Web Store at no cost. Please share any information you have on similar developments in the comments.