Look around, and you'll see that many people have a routine of checking the weather. ' After looking at the weather prediction, people will make preparations for upcoming events. Television and radio weather forecasts are a thing of the past. We may now get the weather forecast on our mobile devices, as well. Android users may find a variety of weather widgets in the Google Play Store that can provide precise forecasts for any given day or timeframe. Using these weather widget android apps, you don't have to open a separate program to see the weather.
List of 10 Best weather widget android apps
We will cover the best weather widgets for Android in this post.
Even though the Google Play Store is brimming with weather widgets, only a few are worth your attention.
An Android app called Weawow gives incredibly accurate weather predictions. You can add a weather widget to your home screen with this app.
Widgets from Weawow come in various sizes, from 11 to 44. You can also change the font size, background transparency, location, and local time.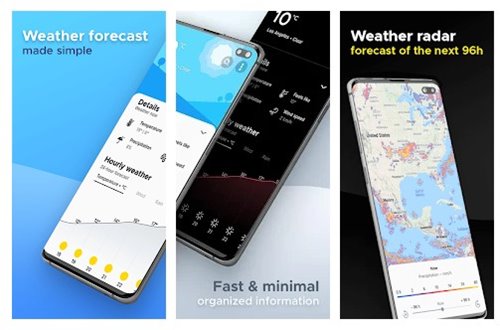 The Google Play Store offers a thorough weather prediction in the form of the Overdrop app. The software not only provides accurate weather information but also has a variety of appealing widgets.
More than fifty widgets show current weather conditions, time, and battery life.
Google Play Store users can get 1Weather, one of the best and most popular weather apps for Android devices. Millions of people are now using the app to monitor the weather. With 1Weather, you can choose from a wide range of widgets to customize your experience.
Widgets on 1Weather are available in a variety of shapes and sizes. The widget's color, transparency, and opacity can all be customized by users.
Millions of Android users have downloaded Weather Live from the Google Play Store, making it another top-rated weather widget. Weather Live, like 1Weather, offers a wide range of widgets for consumers to choose from.
Weather Live also includes a feature that fills the entire screen with current weather conditions. Widget transparency, color, opacity, and other properties can all be customized with Weather Live.
AccuWeather can keep you up to date on all of the latest weather events, from severe storms to the current temperature. It only offers four widget options for the weather feature.
The app offers more widget controls than any other tools reviewed, though. It's possible to set the refresh interval and other parameters such as time or date, temperature, theme, color, and opacity.
If you're a Yahoo fan, you'll appreciate Yahoo Weather, which isn't a popular Weather widget app. There are seven widget options for clients to choose from on Yahoo Weather.
Yahoo Weather's widget background is a random Flickr image. This is an awesome feature. Aside from that, the weather widget displays current weather conditions, the current temperature, and other relevant meteorological information.
The Weather Channel created this software for Android users to use as a weather widget. Five different weather widgets are included in the program, all of which are fully functioning. There were several different sizes of each widget.
The app's only drawback is the lack of customizability in the widgets. Weather, hourly forecast, and a few more details are shown by default.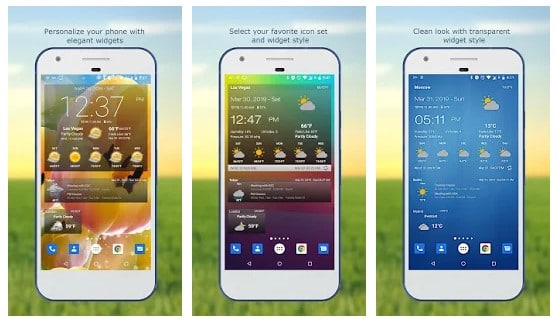 Devexpert.NET has the greatest weather apps for Android devices. You can find widgets for both the weather and the clock in DevExpert's Weather & Clock Widget, which has a wide range of options.
It's a free program that provides widgets for a wide range of data. Select a widget to show the temperature, wind direction, pressure, and sunrise and sunset times.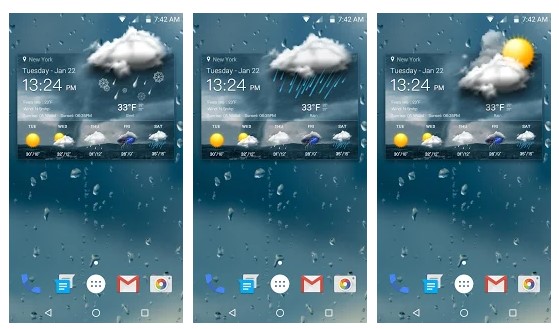 You may find weather forecast information in this program, which includes both daily and hourly forecasts. You can add widgets such as customizable weather and digital clocks to further customize your home screen's look. The weather widget can display radar data, including forecasts, sunrise and sunset times, etc.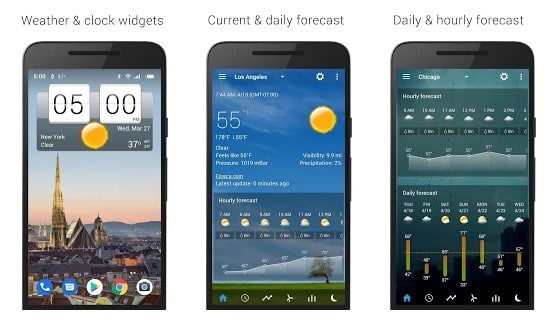 Is Sense Flip Clock & Weather a good weather forecast and digital clock widget? If so, it may be the best solution for your Android smartphone.
Three different-sized weather and clock widgets are included in the widget app for Android. Adding widget components like alarms, automatic weather updates, sunrise and sunset times, humidity, and so on would be more beneficial.
The ten best weather widget android apps available right now are listed here. Please let us know about any additional such widgets you've come across in the comments section. I'm glad you found it useful! Please spread the word to your contacts as well.