Since the widespread adoption of Android devices, fewer people are seen walking around with a robust flashlight. Android phones with flashlights are rather common in India and come in handy during blackouts. You may find that the free flashlight app for android phones are beneficial even if you live nowhere near India. It can help with things like nighttime navigation and communication. You can use it to watch a movie, listen to music, or do whatever else you like.
All smartphones running Android Lollipop or later have a flashlight app available. To be fair, OEMs have had the flashlight option on their OEM skins for much longer. However, smartphones that are too old do not have access to the flashlight function.
List of 10 best free flashlight app for android phones
So, in this piece, we'll talk about the best available free flashlight app for android phones. These programs need access to your camera to turn on your flash, which can then be used as a flashlight. These programs use your phone's screen light to create a functional flashlight if it doesn't have a flash.
The app Shake Flashlight offers a free, simple, straightforward camera and flashlight solution. You may quickly activate the flashlight app by shaking the phone.
The shake function of the app continues to operate even if the phone's screen is locked. Shake Flashlight does more than just illuminate the area; it also offers motion controls for the camera's shutter and aperture.
The Android app High-Powered Flashlight has three different illumination settings to choose from. The app activates a very powerful flashlight using the camera's flash. The program is available for no cost and offers several other features that users will find useful.
In addition to its powerful beam, the High-Powered Flashlight also has an SOS signal, a compass, and a strobe mode with 10 different frequencies.
One of the most highly rated and recommended flashlight apps on Google Play is Color Flashlight. The ability to convert the display or LED Flash into a flashlight is the most notable function of Color Flashlight.
If you activate the screen flash option, you can use a variety of color effects and patterns.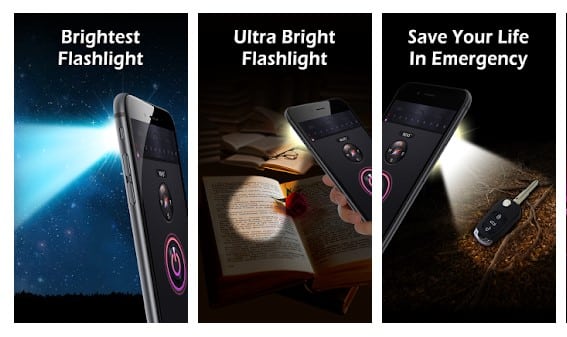 Flashlight is an excellent Android app that is both simple and effective as a flashlight.
Similar to Color Flashlight, the Flashlight Android app allows users to use either the screen or the LED flash to see by. With Flashlight, users may take advantage of other helpful features like a widget store and a flashlight timer.
Simple Flashlight is an easy-to-operate Android flashlight app. It does not turn on the phone's flashlight but brightens the screen to its maximum potential.
One advantage of using Simple Flashlight is that you may change the screen's color to suit your needs. Try out this led light app and its array of color options to have some laughs with your friends.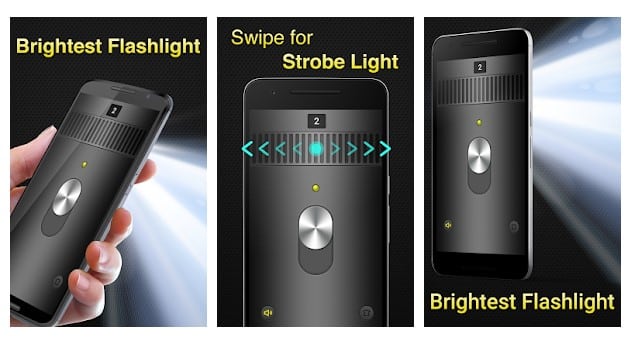 With the Android software Flashlight: LED Light, you can instantly turn your phone into a strong flashlight. The interface of Flashlight: LED Light, which is meant to resemble a conventional flashlight, is the app's most prominent feature.
Also, Flashlight: LED Light has an SOS flashlight signal, a strobe mode with a sensitive frequency controller, and more.
Another highly-rated Android flashlight app, Flashlight HD LED, converts the camera's LED flash into a lamp. The flashlight app for Android is easy to use and works with any version of Android.
Those using Android devices can turn their screen into a multicolored light source with the help of Flashlight HD LED. Not only that, but Flashlight HD LED allows you to use widgets.
Designed specifically for Android-powered mobile devices, the minimalist, aesthetically beautiful, and intuitive Flashlight – Classic app is a handy flashlight.
There are strobe and shutoff modes available in the Android flashlight app. There is a widget in Flashlight – Classic that lets you toggle the flashlight on and off from the home screen.
One of the best free and easy-to-use Android flashlight apps is Tiny Flashlight + LED.
Advantages of Tiny Flashlight + LED include a variety of screen modes for the user. Productivity aids include strobe lights, morse code, and blinking lights.
This Android app is a flashlight widget that you can find on the Google Play Store. It's free software that can be installed as a widget on the home screen and used to toggle the flashlight on and off. It also includes a toggle switch for the flashlight in the status bar.
We've compiled a list of the top ten Android flashlight apps. Please list any further alternatives in the comments if you know them. Hopefully, you found this post to be informative. Spread the word to your associates as well!