In today's world, nearly everyone maintains multiple social media accounts. Numerous social media accounts aren't the only thing that some of us have; we also have numerous gaming accounts, WhatsApp, and so on. Android doesn't come pre-installed with facilities for keeping track of many user accounts. For example, WhatsApp does not provide users with a "log out" option. That means you'll have to start again with a whole new account. The same is true for instant messaging services like Facebook Messenger and others. Clone apps were created to address these difficulties. Programs that copy already-installed programs are known as clone apps. You can use the clone apps to sign in with a different account than you created. To run multiple instances of the same app simultaneously, you can utilize one of the many app cloners available in the Google Play Store.
List of 10 Best Clone Apps To Run Multiple Accounts On Android
We'll look at the best Android app cloners in this piece. You can quickly generate a clone of installed apps to operate multiple accounts simultaneously.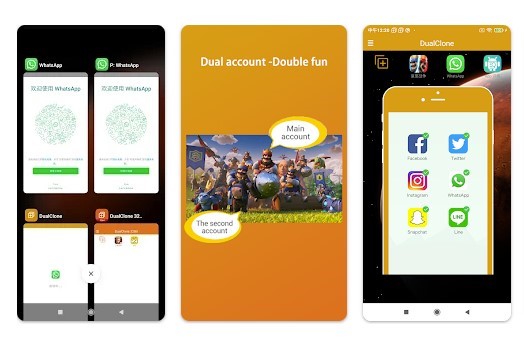 Dual Clone may not be as well-known as some other cloning tools, but it still lets you run two programs at once. Dual Clone allows you to duplicate and run your instant messaging accounts simultaneously.
When using Dual Clone, you don't have to worry about advertising. You can manage multiple Google Play Games accounts with Dual Clone.
You can use Parallel Account to run various social media and instant messaging apps on the same phone or tablet. As far as portability and ease of usage are concerned, Parallel Account takes the cake.
Dual-program locking and hiding of cloned apps aren't available in the app, which is free to download and use.
Program cloning and concurrently running several accounts of the same app is possible with the Android app Water Clone. Water Clone makes it easy to launch many instances of the same software swiftly.
It is possible, for example, to duplicate the WhatsApp app and use many phone numbers on the same device. Other useful functions include locking down an application, supporting various languages, and numerous time zones.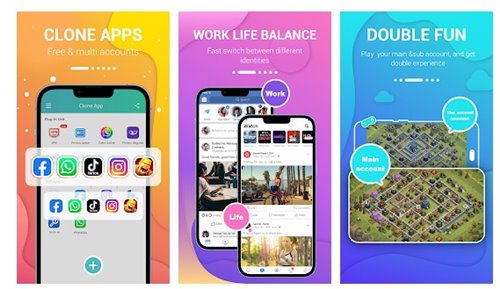 The Google Play Store offers a free version of Clone App, a highly regarded app cloner. You may easily duplicate many Android social and messaging apps with Clone App.
Clone App lets you copy popular messaging apps like WhatsApp, Instagram, and Line. In addition, it offers a safe way to access apps and websites blocked in your region via a VPN.
It's easy to use and doesn't take up a lot of space on your computer. Nearly every popular social networking and instant messaging program may be cloned using Multi Parallel.
With Multi Parallel, you can set up and manage many Messenger, WhatsApp, Facebook, Line, and Instagram accounts at the same time.
You can compare Parallel App to the Multi Parallel application that we previously discussed. Parallel Apps, such as Multi Parallel, create clone versions of well-known software products.
Using an app cloner, you can access many instances of your favorite social networking and gaming apps simultaneously on the same device. In addition, a PIN is used to protect sensitive information with a secret password lock.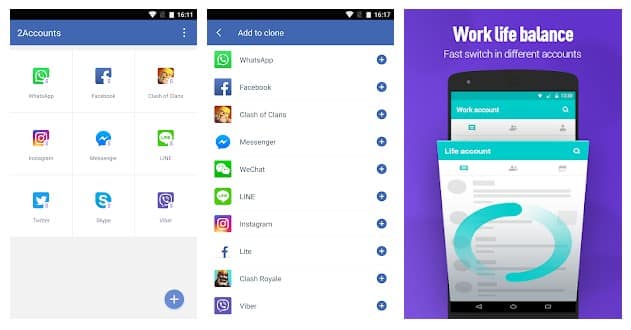 As its name implies, 2Accounts is one of the best Android apps for running two instances of the same program simultaneously.
I don't understand what you said. To get experience on both accounts simultaneously, you can use 2Accounts. This app cloning tool, 2Accounts, is another amazing choice.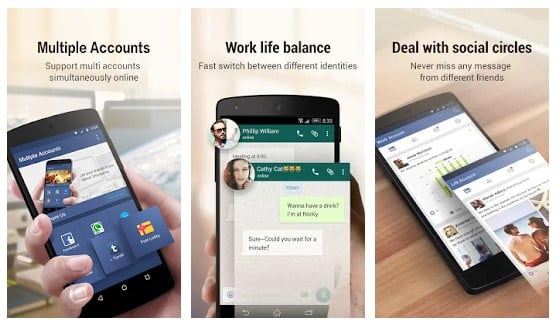 To create clones of installed apps, you may want to use Multi Apps, an Android app that's easy to use.
Multi Apps allows you to duplicate an app and run multiple instances of it at the same time. This is why you should get Multi Apps on your Android phone.
In terms of Android multi-account apps, it's right up there with the best of them. The UI of Multi is one of its most impressive aspects since it is visually appealing and well-organized.
Users can lock their data with a privacy vault in Multi, which works with most popular Android apps.
It is one of the best Android apps for creating multiple accounts and cloning them. DO Several Space allows you to create and run multiple instances of the same program simultaneously.
A private locker for storing your cloned apps and accounts adds to the app's appeal.
You can run two Android apps at the same time with clone apps. The vast majority of the clone apps included in this post are completely free to use and download. Please let us know about other similar programs you've encountered in the comments area.