Understandably, losing a phone is a frustrating experience. Your name, address, phone number, e-mail address, and other personal information are all included. No one wants to think about the potential of their phone stolen in today's world because it might lead to personal and financial hardships. However, losing or having a smartphone stolen is typical and may happen to anyone anytime. Because of this, it is always a good idea to install my phone apps. Here, we'll look at just a few of the many apps that find your phone available on Google Play.
List of 10 Best apps that find your phone For Android
A lost or stolen phone can be swiftly recovered using apps that find your phone. So let's look at the most popular tools for tracking down my lost phone.
This is one of the best Android apps for finding your phone at the moment. Using Family Locator, you can establish a circle with your friends and relatives.
Members of the group can see where you are at all times. The software uses your phone's GPS sensor to pinpoint your exact location.
As a phone tracker app, Wunderfind stands out from the crowd. Misplaced AirPods, headphones, Fitbits, and other Android and iOS devices are no problem for Wunderfind.
To use this app, you'll need to connect your devices. Radar displays all nearby devices after a connection is established.
This is Google's app for finding your phone, and it's free. Basic functions like sounding alarms and locking devices are all that the app can do. In addition, you can use the online interface to wipe your phone.
The app uses your phone's GPS to track your location. A pleasant perk is the absence of in-app purchases or advertisements.
One of the best anti-theft, data security, and device management apps on Google Play.
You can set up control zones on a map to keep track of devices entering and exiting. Prey Anti Theft's GPS geolocation tagging is considered the best in the industry.
TrackView, on the other hand, is an Android software designed to keep families safe. The app turns your smartphone into a GPS-enabled networked IP camera. There is also two-way audio detection, an IP camera for home security, and event details.
Cloud storage options for recording backup are also included with the premium subscription. Regarding IP camera and GPS locating software, TrackView is the best on the market.
Phone Tracker By Number is a good choice for Android users looking for a reliable and accurate GPS tracking app. It will use your children's cell phone numbers in the Android app to locate them.
You must enter a phone number before using the Android app. You can track the GPS location of the device once the process is complete.
It's one of the most effective parental control apps on the Google Play Store. To form a circle with your friends and family, Family Locator is the only software you need.
Once the process is complete, a private family map shows the current location of all the added contacts. It's possible to get a 30-day history of your family's whereabouts with Family Locator.
An excellent Android parental control app for locating a misplaced phone is Locator 24. You can set up child and Parent profiles in the app. Depending on your preferences, the software generates a unique code you must share with the other devices.
It displays the location history of circle members and alerts you when someone enters a preset location, for example.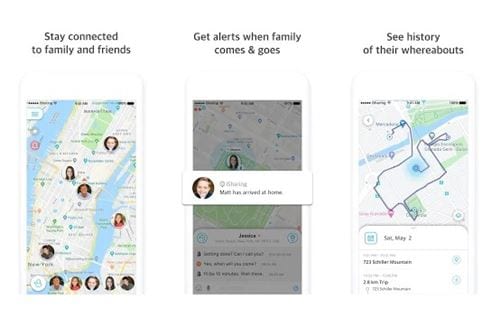 Family and close friends can use the iSharing Location Tracker to share their location information privately. Additionally, you may receive real-time notifications for any activity related to your phone's GPS and locate lost or stolen devices with the help of iSharing Location Tracker. Free voice messaging is another perk of the program.
GeoZilla is an excellent Android app for keeping tabs on your loved ones' whereabouts. You can compare this app to some of the others mentioned above.
Using this software, you may create a circle, invite others, and share your location. When you're near other family members, they can either see or locate you.
The app requires location services to allow real-time location sharing. It's a great Android app for finding your phone when lost.
Using these Android apps that find your phone, finding your phone is a cinch. That's all I've got for you today, folks. Let your friends know about it as well. We'd also like to hear from you if you know of other similar programs.