As alarm clock functionality has been built into modern smartphones, they have mostly rendered their analog predecessors obsolete. The 'Snooze' function may render the default alarm app ineffective on occasion. If you have trouble getting up in the mornings with the iPhone's built-in alarm app, you may want to look at some of the other alarm apps discussed in this article. In this piece, we'll look at some of the best alarm apps for iphone available for getting you up and about in the morning.
List of 10 Best alarm apps for iPhone
It's crucial to remember that the App Store has a plethora of alarm apps for iphone before we give you a selection of the top ones. But only a select few are worth your time and attention. The most downloaded alarm clock apps for the iPhone are listed below. Okay, then, let's look at the best alarm clock programs.
The Loud Alarm Clock will blast their ears to get the attention of those who need it the most. The app's loud alarm can help you force yourself out of your comfort zone.
The Loud Alarm Clock makes it tough to adjust to new sounds every morning. You may also disable the snooze feature and set a custom alarm background with Loud Alarm Clock.
In conclusion, Loud Alarm Clock is a great piece of software that helps you get out of bed in the morning and motivates you to make positive changes in your life.
Spin Alarm Clock has a lower popularity rating compared to the other apps on the list. However, it can motivate you to wake up and start your day. To turn off the alarm on the Spin Alarm Clock, you must spin around in circles, as the name suggests.
To silence the alarm, you must get out of bed and spin in circles, as there is no snooze option. Spin Alarm Clock takes a fresh strategy to rouse you from sleep.
The iOS software Alarm Clock for Me can be used as a reliable alarm clock. With the help of Alarm Clock for Me, you may listen to your chosen tunes as you prepare for the day and wind down for the night.
Multiple alarm options are provided to help you get out of bed in the morning. You may silence the alarm in several ways, including shaking your phone or solving a math problem.
Multiple alarms with individual tunes, notes, and other customization options are at your disposal.
With the help of AI, CARROT Alarm is an alarm clock for iOS devices. The software is well-known for its advanced alarm clock function that is guaranteed to put a smile on your face every morning.
The app wakes you up with a variety of tunes and lighthearted chatter. It's a great iPhone alarm clock app overall.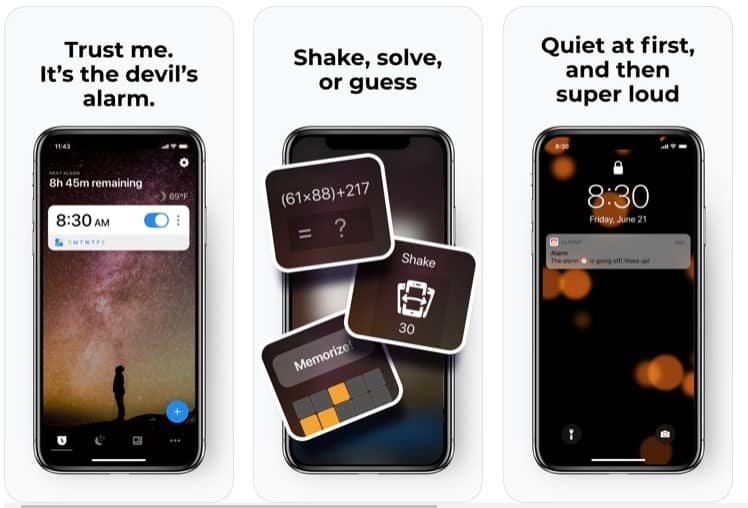 Regarding Android and iOS alarm clock apps, Alarmy is among the best and most highly regarded. This alarm clock app is widely used across all of our supported devices, and for a good reason: it has many cool features that people like to use.
Photo mode, Shake mode, and Math Problem mode are just a few of how Alarmy can rouse its users from sleep in the morning. In Photo mode, you can turn the warning off by clicking a picture of a certain item.
Shake mode requires users to shake their phones fifty times, while math problem mode requires them to solve a math problem.
The iPhone alarm app Sleep Cycle – Sleep Tracker, is highly functional and intuitive. The most useful function of the app is its ability to track your sleeping patterns and provide detailed analysis.
It can recognize a variety of noises, including snoring, sleep-talking, coughing, and more. You can set it to your preferred waking hour, and it will gently awaken you at that time every day.
Let's be honest: waking up is tough, even when the alarm goes off. The free iOS app Walk Me Up Alarm Clock permanently fixes this problem.
Turning off the alarm requires the user to get out of bed and take several steps. Your alarm won't stop until you've walked for a few seconds (or minutes). As such, it stands out among the other alarm clock apps for iPhones.
Comparable to Pillow and Sleep Better, Sleep Time helps you get a good night's rest. The device monitors your sleep patterns to determine the best time to wake you.
You can set one of 20 different alarms in Sleep Time to wake you up in the morning. Now you may utilize Sleep Time, another well-regarded and top-quality iPhone alarm clock app.
To silence the alarm on your iPhone, you'll need to be able to answer a math question, thanks to the Math Alarm Clock app.
Kids that find pleasure in the mathematical challenge will love this program the most. The application also demands users to express the solution loudly enough to mute the warning, even after the issue has been resolved.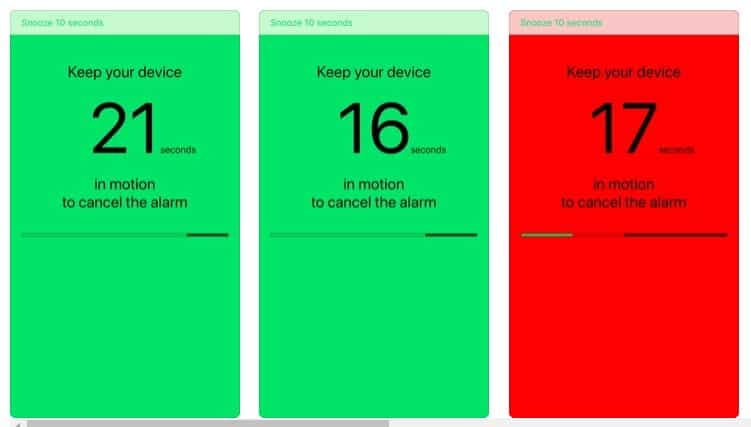 Another one of the best alarm clock apps for iOS is Motion Alarm Clock.
The benefit of the Motion Alarm Clock is that you may deactivate it by just keeping the iPhone in motion for a few seconds. Every time you use the app, you'll get new challenges. As a result, you can have several tasks to complete each day.
The best alarm apps for iPhone are those listed here. If you have trouble getting up every morning, try one of these iPhone alarm clock apps. Let us know in the comments if there are any other programs out there that are comparable.