As technology has improved, video has become one of the most popular forms of media consumption. Other new formats allow high-quality videos; 3GP and MP4 are no longer exclusive options. You'll need a video player with a wide variety of file types to watch these videos on your portable device. Anyone who has used Apple's iPhone knows all too well about the limitations of the device's default video player. You'll have a much better time watching videos on your iPhone now that so many excellent third-party video player for iPhone are available. If you find yourself overwhelmed by the options for video player software, this handy list should help.
Our team has compiled a list of the top 10 video player for iPhone that deliver a smooth and hassle-free experience. Each software is described in detail, including its features and the file formats it can read.
Best video player for iPhone | 2022 Edition
The PlayerXtreme Media Player software for iOS devices is a powerful media player with many useful extras. You can relax knowing that the video you're watching will play smoothly, no matter what format it was initially created in. The software's layout makes it easy to access the multimedia files already saved on your mobile device.
Features:
Video from NAS drives, Wi-Fi hard drives, Macs, PCs, and DLNA/UPnP apps may all be played without needing conversion.

The app supports both Apple's AirPlay and Google's Chromecast.

Volume and seeking may be adjusted with gesture controllers.

Password protection is available in the program, although only in the paid "Premium" version.

You can download subtitles in real-time.
You can't go wrong with PlayXtreme Media Player, one of the best video player for iPhone. It's a free program that can open and work with various file types.
KMPlayer is the final stop in your search for a 4K-compatible video player for iPhone. Since it supports numerous video formats, you can watch videos without worrying about their structure or encoding.
You can play video files stored in the cloud or on a network. Compared to similar apps, this one stands out thanks to its intuitive design and features.
Features:
You can use gesture controls to speed up video playback or change the volume.

Google Drive, File Transfer Protocol (FTP), and Dropbox are some network services that function.

The video codecs H.265, VP9, and others are all supported by this player.

The KM player is up to the task when playing 3D, 4K, and UHD videos.
Regarding features and ease of use, KMPlayer is among the best free iPhone video players available. More than 230 nations and 36 languages can use the app.
The OPlayer Lite app is a great way to watch videos on your iPad. If you're looking for a media player app, go no further; it's got all the functionality and compatibility for all the formats you need.
While the interface's abundance of choices may put people off, it does away with the need to pause the film and go around in menus by placing everything on a single screen.
Features:
The application is compatible with a wide variety of stream protocols.

You can play video while other apps on your iPhone continue to run.

Using only one hand, this mode makes it possible to play videos.

Supports wireless streaming via AirPlay and Mirroring and direct connection via HDMI.
OPlayer Lite is a famous video player for iPhone, and many users take advantage of its built-in web browser to live-stream games. You can get by with just the basic functionality of the free version of the software. You will need to upgrade to the paid version to get the most out of the program.
Firecore's Infuse 7 is one of the greatest iPhone video players due to its various features and consistent quality over the years. The video player is compatible with a wide variety of file types.
Now you may stream videos from your networked devices with decent support for AirPlay and subtitles. One of the most exciting aspects of this movie player is its user interface.
Features:
The software integrates with Trakt, so you can keep tabs on what shows and movies you've seen.

Infuse 7, the iPhone's media player supports practically all video file formats without buffering or lag.

Night owls and cinemagoers will appreciate the stylish dark motif.

It is possible to synchronize iTunes with FTP for file sharing.
A free and paid "Pro" version of the software is available. "Pro" refers to the premium paid version. The paid iPhone video player has advanced capabilities like playing 4K videos, having high-definition sound, and streaming videos from the cloud.
Similar to the previous edition, this one has enough features to rank among the best iPhone movie players. Infuse 7 Pro is available monthly, annual, or lifetime, with the latter two options including lifetime updates.
I believe you should include a VLC media player in any list of iPhone video players. The desktop version of the famous media player is widely used, and the VLC iOS app lives up to expectations.
No video format conversion is required, and you may watch videos in various codecs without installing any codec packs. The simplistic style of the player undoubtedly helps to boost its appeal.
Features:
You can synchronize your movie collection via Dropbox, Google Drive, One Drive, iCloud, or iTunes.

Complex subtitles, including full Subtitles for the Speech Impaired (SSA), support.

Seek, and volume adjustments are gesture-controlled.

There can also be network streams that use protocols like HTTP, RTSP, RTMP, MMS, FTP, or UDP/RTP.

You may protect the music player app using a Touch ID or a password.
One of the most significant iOS video players is the VLC media player for iPhone. You can import subtitles from the internet by entering a URL. Even more unusual for iOS media players, the app supports the DTS and Dolby AC3 codecs.
8Player is more than just a video player for iPhone; it works on the iPhone, the iPad, and the Apple TV. It can play and control files through DLNA/UPnP networks, SMB and FTP. However, this is limited in that not all major formats are supported.
In addition, users have decreased ratings due to slow streaming speeds. However, if you can get over these, the app's customization options make for a pleasant video-watching experience.
Features:
Chromecast and DLNA players can have their playback of media files controlled by you.

Playlists may be made and edited on the go with the iOS media player app.

The 3G/4G network allows for remote access to DLNA/UPnP servers.

An intuitive navigation structure.
The 8Player app does not support rare video formats. However, 8Player is the best app for controlling Chromecast devices from a distance.
The nPlayer software is considered a top choice for playing videos on iOS devices. It's one-of-a-kind since it doesn't require transcoding video files to play them. And it also lets you watch videos on your computer while you're away from it.
It ensures that you may play movies on the iOS video player. Swiping the screen lets you adjust the settings, including volume, brightness, and seek. The videos on your iPhone are synchronized immediately.
Features:
It supports importing movies from various cloud storage systems, including Amazon Cloud Drive, Box, Dropbox, Google Drive, OneDrive, Yandex, and more.

In addition, you can repeat a specific portion of text within the app, such as from point A to point B.

The software has hardware acceleration for HVEC/H.264/MPEG4 and can play 3D videos.
nPlayer Lite's built-in browser and file manager keep your data tidy while you watch movies on your iPhone or iPad. This is a good alternative if you're tired of using your iPhone's boring built-in video player.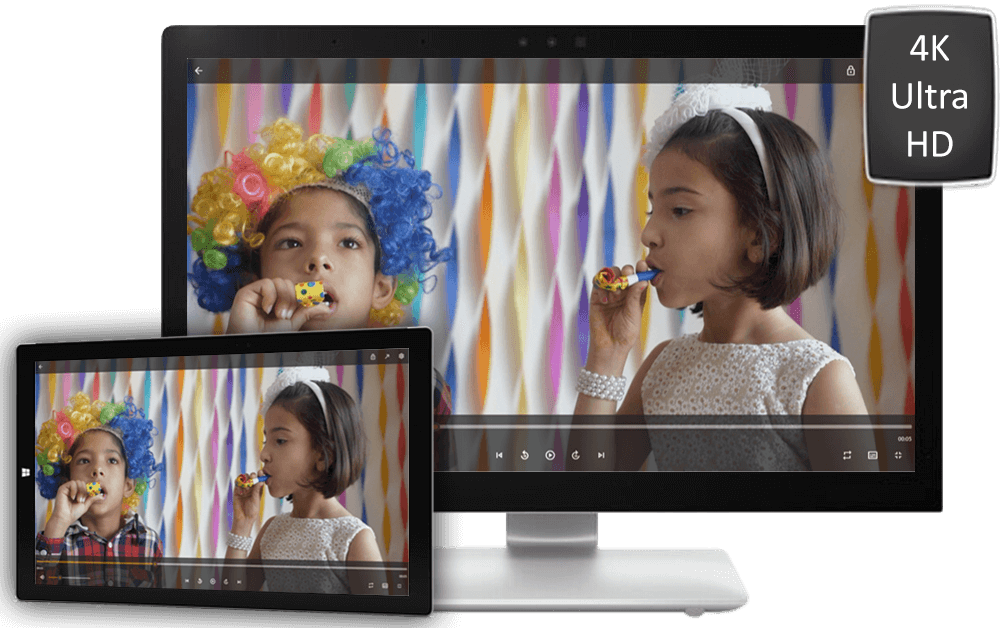 CnX player is a great video player for iPhone to think about downloading if you're concerned about battery life when watching a lot of videos back-to-back.
This iOS app can deftly handle 4K Ultra HD video on an iPhone. You won't need to go around for many different video converters because this tool works with every standard format.
Features:
Video decoders that are both hardware and software 64-bit designed to save power.

You can cast videos to your TV using AppleTV, Chromecast, or an Amazon Fire TV.

Video can be sent wirelessly from a computer or laptop to an iOS device using the WiFi file transfer function.

Choose from a variety of customizable themes.
If you're looking for a video player that can handle the high-definition video without any stuttering, go no further than CnX Player. The software is a decent video player for the iPhone and iPad thanks to its compatibility with various video formats and features like Wifi transferring, rapid switch video decoding, and speed adjustment.
The MX Video Player app for iOS devices is a simple player that plays many standard video formats. The best part about the program is how easy it is to start watching movies immediately, thanks to the streamlined interface.
There are a lot of excellent options in this free and open-source video player program. The iOS software has been fine-tuned to take advantage of Retina displays, bringing forth vibrant colors and making movie-watching more enjoyable.
Please note that this is not the same as the original MX Player app, which has just launched its video streaming service complete with original web series and other content.
Features:
If you have videos saved in Google Drive or Dropbox, you can access them from within the respective apps.

Control the volume and brightness of a video with a gesture.

You can cut a video to only the parts you wish to see.

It is possible to take a screenshot during playback and store it in the gallery.
MX Video Player is a free iOS video player software, so you should expect to see adverts now and then. Besides, it's one of the greatest iPhone video players because of its user-friendly interface and exciting extras.
When it comes to playing videos on your iPhone or iPad, PowerPlayer is both user-friendly and feature-packed. The app has a transparent player and a well-organized file browser.
PowerPlayer's free version supports playing music, videos, and photos stored in your iPhone or iCloud Drive. You may remove ads and add support for streaming from Google Drive and Dropbox by upgrading to PowerPlayer Pro.
Features:
Simple and easy-to-use interface.

Complimentary use of iCloud, Google Drive, and Dropbox.

Possibility to use many windows at once.
Paid Video Player Apps For iPhone
The best part? You can get your hands on these programs without spending a dime. However, other paid options offer a slew of features that make watching videos on an iPhone or iPad a pleasure. Several high-quality premium video player apps are available for the iPhone and iPad, including OPlayer, MCPlayer HD, Cine XPlayer, GoodPlayer, and Power Video Player Pro.
Verdict
As you can see from our roundup of the top video player apps for the iPhone, these third-party alternatives to Apple's built-in player are packed with valuable extras. You can choose any preferred media player.
We've outlined each player's capabilities, and you may get any of them from the Apple App Store at no cost. These iPhone video players will revolutionize your experience of watching videos on your Apple gadget.
Let us know in the comments if you think we forgot to mention a great video player for iPhone that deserves to be here. Also, keep reading Fossbytes for a plethora of iOS app catalogs.
FAQs
Does MX Player work on the iPhone?
The iPhone can play MX Player. There is a difference between the MX Player and the MX video player. While MX Video Player is an iPhone-only video player, MX Player can stream MX originals.
Which video player for iPhone has the subtitle option?
Every significant media player supports subtitling. You can also add subtitles to a video by downloading a separate subtitle file (.srt).
Which is the default video player on iPhone?
There's a built-in video player on the iPhone, and it has some basic controls like volume, panning, and speed.
Should I get a video player for my iPhone?
If you're unhappy with the built-in player and want more options when watching videos, you should get a third-party video player for the iPhone.