Android OS gives the user complete control over the look and feel of the interface. You may customize smartphones using launchers, themes, and icon packs. One of the most common forms of customization is the wallpaper used for the home screen and the lock screen. Home screen wallpapers are used by many people and might range from personal photos to scenes from nature to pictures of their favorite superheroes. Best live wallpapers android apps for home screens are becoming more popular even though they use more battery life. A live wallpaper, often known as a moving wallpaper, is an image that moves and reacts to user interaction and can even move on its own.
It is possible to personalize a few live backgrounds. Users have the option of customizing the backgrounds to their liking. You may find the best live wallpapers android in various apps on the Google Play Store.
Best live wallpapers android Apps
Live wallpapers are a popular feature for Android devices, and this app has a wide selection of them, all with stunning visuals and innovative concepts. Live wallpapers can be downloaded depicting various animals, from dolphins to kittens to a shark smashing your screen. Brand new movable background layouts are added frequently.
It won't compromise battery life by using the Wave Live Wallpaper app. This software helps save battery life by turning off background animation. The program also provides keyboard themes along with the chosen live wallpapers. You may create live wallpapers with this free program.
According to several reports, the background animations sometimes freeze, and the screen becomes black.
Considered one of the most soothing live wallpaper programs. You may personalize your Android device with the Forest Live Wallpaper app, which provides several pleasing moving wallpapers.
Night time multiplier is a unique feature of the software that increases the brightness of the wallpaper at night so that the trees and hills stand out more clearly. The software creator has promised to add realistic-looking lightning to the rotating wallpapers soon.
But many app users complained about how rarely the creators reviewed updates. Despite the many other options, it was still a top live wallpaper app in 2020.
Muzei is an Android software that automatically displays a new work of art daily on the lock screen. The user's preferred background image is automatically rotated every few hours.
Muzei, an Android live wallpaper app, stands out due to its developer-friendly nature. You can find the code for the app at code.muzei.co. For those with more experience in the code, you can use the source code to make custom wallpapers.
The newest update to the program adds support for various Android Wear wearable faces. This feature allows users to see their chosen wallpaper on their smartwatch.
It looks like a paper-cutout landscape is slowly making its way across your phone screen. Users can customize their sunrise and sunset times with the Paperland Live Wallpaper app.
The feature that adapts the app's live wallpaper to the current weather conditions is powered by AccuWeather. The software's free edition offers three themes: quiet night, pastoral, and nomadic desert.
You may find different live wallpaper apps, both paid and free, from Paperland Live Wallpaper's creator, Joko Interactive, in the Google Play Store.
There are a lot of generic live wallpaper apps for Android, but this one stands out as one of the more creative. Users can customize their desktops with stunning 3D animations that play in real-time.
Countless one-of-a-kind color schemes are available within the ZENTALED Live Wallpaper software. This moving wallpaper app for Android is excellent since the dark background helps save battery life.
A smartphone with an OLED screen is recommended to get the whole experience out of the ZENTALED Live Wallpaper. The app's developer, maxelus.net, also has several live wallpaper apps in the Google Play Store, each with its unique aesthetic.
You can find the best AMOLED 4D live wallpapers in this software. The 3D effect on the wallpapers in this software is quite beautiful. The software comes with a wide variety of wallpapers to suit individual tastes. As a techie, you can customize your wallpaper to respond to your phone's motion and light sensors.
The app runs efficiently on low-power devices with AMOLED screens. The wallpaper options in this software are among the most significant and accessible.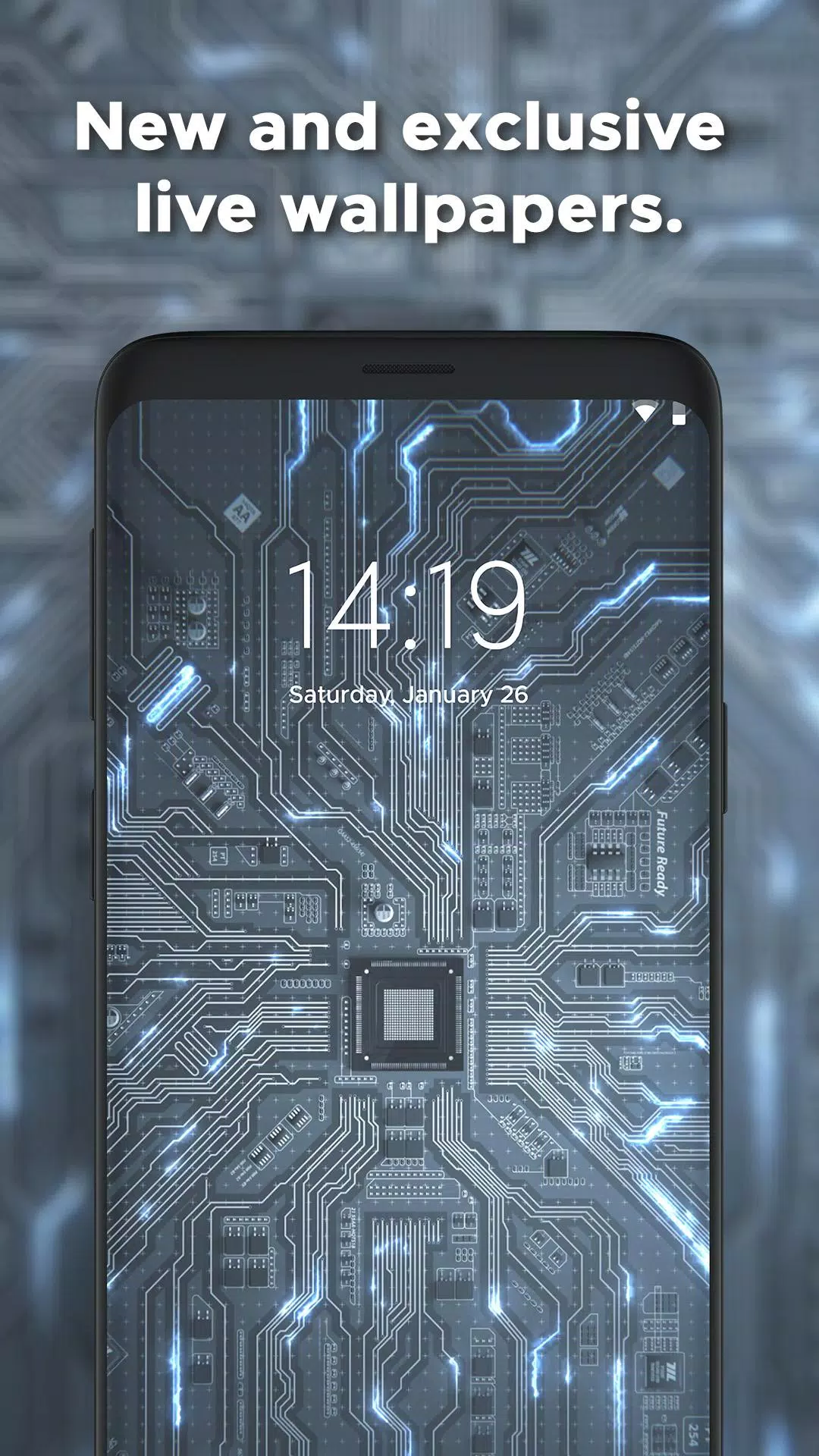 Engine is a top-tier option among live wallpaper engines in the Google Play Store. You may use the live wallpaper feature in this app on both the home screen and the lock screen. The software includes an automatic wallpaper changer and can swap out the background image at regular intervals.
This free wallpaper app is one of a kind since it allows users to set their custom videos as live wallpaper for the home screen and lock screen. Furthermore, the software encourages users to contribute their wallpapers.
More than thirty categories of live wallpapers are available in the program, including quotes, animals, space, tilt-shift, and games.
The ASTEROID app is excellent for stargazers because it can show an image of the night sky on the home or lock screen. The asteroid displayed here is fully customizable, down to its color.
The STATIC IMAGE option replaces the live wallpaper with a static image that refreshes every 10 seconds. The creator of the feature asserts that it significantly reduces the amount of power your phone consumes compared to the default.
As its name implies, a cartogram is a program for creating maps. As a live wallpaper, you can select a map that changes your location (using GPS). You can choose a premade map style or provide your own custom design by just picking a color. Not only that, but it also has AMOLED-based map styles.
This is fascinating trip software since it uses a map as the background on the home screen to show precisely where you are. You can customize position indicators in settings. The app quickly shows off your favorite routes to friends and family.
If you enjoy basic design, Material Islands will be your go-to app. Home screens can have semi-live backdrops of iconic structures like the Taj Mahal, the Colosseum, and the Eiffel Tower.
As a semi-live backdrop, it evolves more subtly than constantly over a day. As a result, it will consume far less power than the other programs on your list. The AMOLED Night Mode significantly improves the battery life.
Verdict
Based on the features available, wallpaper variety, and overall performance, we recommend "Live Wallpapers, Screen Lock, Ringtones – W.Engine." You can use your custom wallpaper or choose from one of the many dynamic ones in the app. You may also use the feature to share your animated wallpaper or access those others have posted.
Additionally, it allows you to have your wallpapers rotate through automatically according to your tastes. When it comes to how much power it consumes, the app is frugal.
Choosing the Best live wallpapers android app
There are many other free live wallpaper apps for Android beyond the ones listed above. However, each tool has been carefully chosen, and the Best live wallpapers android software will ultimately depend on your preferences. For instance, if you want the best experience with a 4D wallpaper, you should use the 4D live wallpaper software. Similarly, Paperland Live Wallpaper may be the perfect choice if you're looking for a live wallpaper with a more creative bent.
With any luck, you'll be able to narrow your search for the Best live wallpapers android with the help of our list.
FAQs
Is it possible to implement a live wallpaper in Android?
Using specialist software, you can manually or automatically set a live wallpaper as the home screen and lock screen background.
Is it true that using live wallpaper could quickly drain your battery?
Live wallpapers drain your battery life just like any other on-screen content. Less battery is used by semi-live wallpapers than by live wallpapers. These two options, however, consume more energy than their static counterparts.
Can you expect a performance hit using live wallpaper on your phone?
Because it must animate the visuals at a predefined period, poor hardware specs will slow down your phone's performance.