I'm not going to give you a history lesson on the DS or try to defend your decision to buy one now. Since I know why you're here, I'll keep this short. Here is a collection of the best PC and Android Nintendo DS emulators that we could find. Try your hand at Pokemon DS, a series of games available only on the Nintendo DS to relive memories from your past. The main reason I like having a PC Nintendo DS emulator is so I can play Pokemon. Nintendo franchises like Mario and The Legend of Zelda, as well as Metroid Prime Hunters, are more options. However, if you want to play Pokemon games on your computer or Android device but don't have a Nintendo DS, here are some of the best DS emulator:
Best DS Emulator (2022)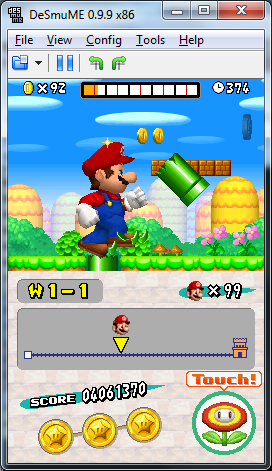 The pronunciation of the name is even more baffling than the name itself. Yet, among the several DS emulators available for PC, DeSmuMe stands out as a top contender. It works with Macs as well as PCs.
There is no discernible difference in the performance of Nintendo DS games across the two systems, but I did have frame dropouts when playing at maximum graphics settings on my MacBook Air (2017 model). Your computer's settings will have the greatest impact on performance.
As a plus, you can play around with various graphical and emulation options. A cheat code manager and USB controller compatibility are two of the many helpful extras. It's worth noting that the NDS emulator has a save function, so you can pick up just where you left off.
DeSmuMe is a well-liked open-source project among Nintendo DS fans, with good reason. For instance, development on the project has slowed to a trickle, and they delivered the last stable update in 2015. The emulator does not officially support many Pokemon games, yet you can still play these games. No WiFi emulation is available either.
Availability — Windows and Mac
Why use DeSmuMe
Modification of visuals

Exceptional Compatibility
When talking about the best PC Nintendo DS emulators, MelonDS is always brought up. It has been said that this emulator is comparable to DeSmuMe, the most well-known Nintendo DS emulator.
While this PC emulator falls short of DeSmuMe in several emulation and visual regards, it makes up for this in other ways, such as providing an extremely faithful rendition of DS games.
Melon's brand-new just-in-time (JIT) recompiler makes this fast emulation possible. Thanks to the JIT recompiler, Melon can do fast emulation, and the new OpenGL render makes high resolutions available even on moderately capable machines, making the Nintendo DS emulator more accessible than ever. If you want to play Pokemon games on your PC, MelonDS is your best bet. It's the best Windows DS emulator available.
Local Wi-Fi multiplayer gaming is another distinctive feature of the MelonDS. It's nice to see the functionality working, even if it is experimental and only supports a small number of games. Other features common to PC NDS emulators include a save slot, screen configuration options, and support for joysticks.
Availability — Windows and Linux
Why use MelonDS
Outperforms at higher resolutions.

Very accurate.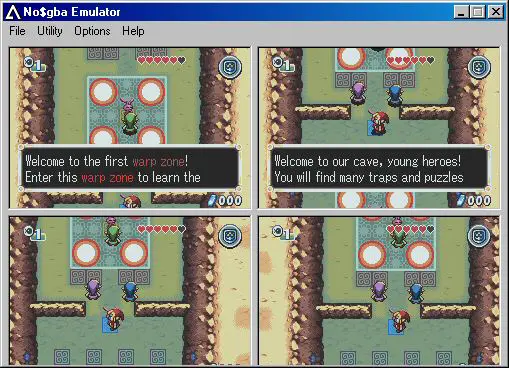 Despite its origins in emulating Gameboy Advance games, NO$GBA is now widely considered one of the best Nintendo DS emulators for Windows. This DS emulator is useful since it can run Game Boy Advance and Nintendo DS/DS Lite games (DSi).
Sadly, the DS emulator allows only a limited range of visual tweaks. However, with a few tweaks to the settings, one may obtain visuals on par with DeSmuME. The bright side is that the Nintendo DS emulator is so efficient that you can use it on even low-end computers. Second, it has a smaller footprint than the other recommended NDS emulators.
However, a lack of customization choices for the interface is a problem. The multiplayer feature didn't work for me because it was still in beta. Only Windows users can use the emulator. Additionally, a state-saving feature and joystick compatibility are included. Cheat code functionality is built into NO$GBA as well.
Availability — Windows
Why use NO$GBA
Effective speed with little memory use.

Plays Game Boy Advance and Nintendo DSi titles.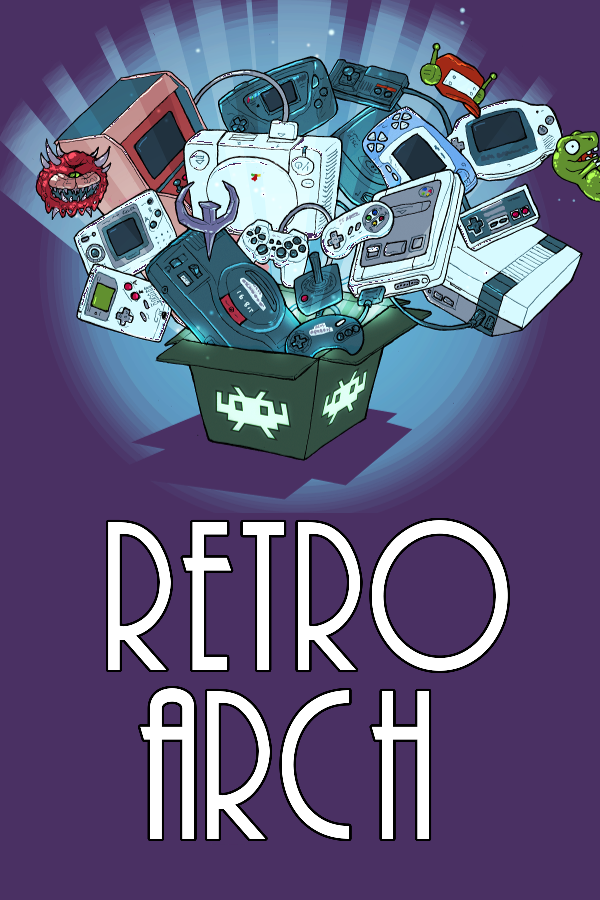 Unlike the other Nintendo DS emulators listed here, RetroArch is a universal emulator that supports various older consoles. The idea is to integrate several different emulators (or "cores") into a single program.
Here, we have NDS emulators DeSmuME and MelonDS, both of which can be found on RetroArch. As a comprehensive emulator, it supports games from numerous systems, including the NES, SNES, DS, DSi, 3DS, and 64, as well as Atari, MAME, and others.
While the UI may appear daunting initially, you'll quickly find it easy to use. While there are other Nintendo DS emulators on this page, this one makes running games more difficult.
On top of that, it has comprehensive graphical and emulation customization options. You can make the native resolution as high as 4K, and by utilizing shaders, you can completely transform the games' visual presentation. Joysticks are supported, and there are several different screen sizes and layouts.
RetroArch's resource usage on your computer may increase compared to other programs. Nonetheless, it is still a top-tier PC emulator.
Availability — All platforms
Why use RetroArch
All-in-one emulator

Quite a few games are already loaded.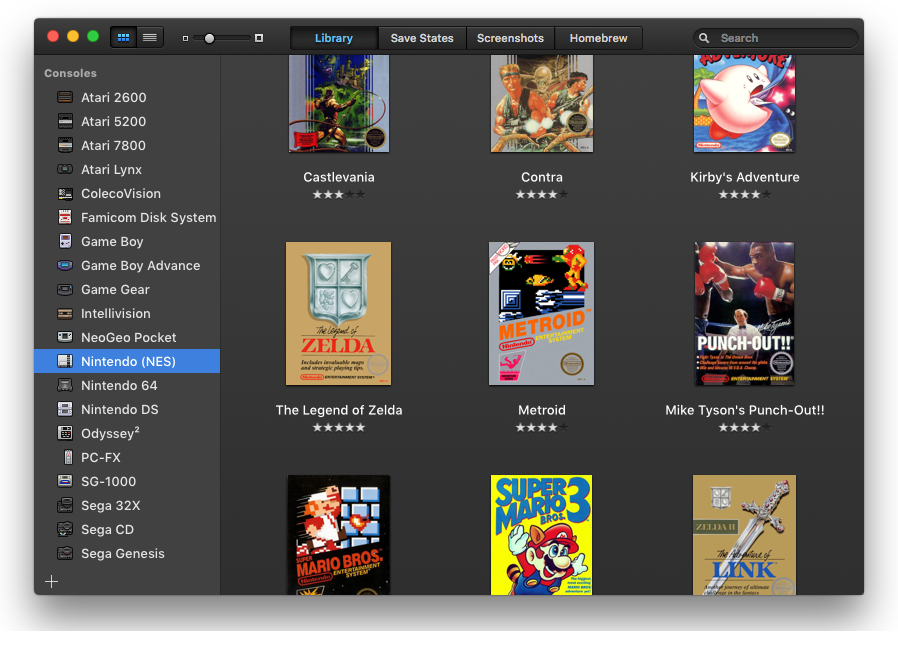 If you're already using another console emulator, OpenEmu can serve as a convenient front end. This PC emulator is equivalent to RetroArch in terms of the consoles it can emulate and the customization options it provides.
OpenEmu stands out from other emulators thanks to its exceptionally simple interface. On a Mac, the user interface will look and feel like iTunes. The emulator displays box art and categorizes games according to the platform. The DeSmuMe Nintendo DS emulator is included in OpenEmu.
Unfortunately, the absence of customizable visual options may leave some players unsatisfied. However, I could not find any settings that would allow me to increase the internal resolution during my tests. The Nintendo emulator has other capabilities, including changing the screen's layout, saving games, using cheat codes, etc. Various gamepads, such as the DualShock, Switch Pro, and Wiimote, are compatible with the game. When it comes to Mac DS emulators, OpenEmu is among the best.
Availability — Mac
Why use OpenEmu
Streamlined UI

All-in-one emulator
Best Nintendo DS Emulator For Android In 2022
Naturally, consumers would like to be able to play Nintendo DS games on Android, given that the Nintendo DS was a portable gaming system. At this time, DraStic is the most reliable Android DS emulator.
Like PC DS emulators, the software replicates the DS's interface and controls. Consequently, you can count on features like controller support, state saving, button mapping, etc. The software also lets you raise the program's resolution. But only high-end cellphones will deliver optimal performance.
The program provides six different layout possibilities to cater to a smartphone's vastly different screen dynamics and a Nintendo DS (dual-screen). There are several different layouts possible, including the standard view (in which both screens are the same size), stacking the screens, and keeping one screen shorter than the other.
DrasTic's only drawback is that it's a paid app for Android that costs $4.99. The cost is inconsequential in light of all the perks you get.
Availability — Android
Why use DraStic DS Emulator
Space for storing files online, using Google Drive.

Quicken the rate at which the emulated system functions.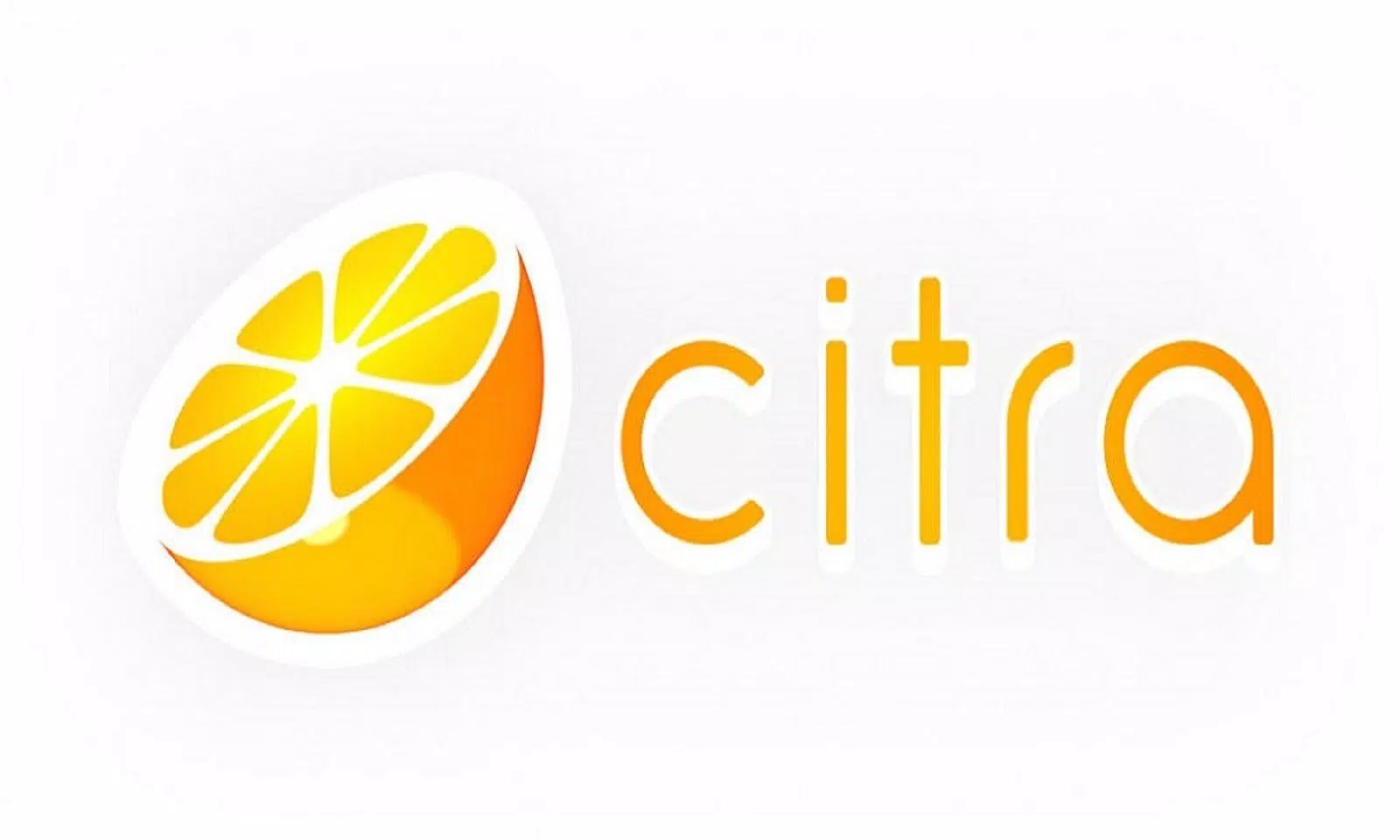 For those who want to play Pokemon games on a PC, there is no better Nintendo 3DS emulator than Citra. You can play multiple 3DS games in full visual detail and at a high resolution on even a relatively weak machine.
The Nintendo 3DS emulator has user-adjustable internal resolutions up to 4K, bringing a new level of realism to games like Pokemon and The Legend of Zelda. Concerning the games, you can check out which ones are compatible with Citra on PC by visiting a special part of the Citra website.
The program allows joysticks and features such as user-defined interfaces and secret codes. There's a screen recorder integrated into the Nintendo emulator. Citra similarly mimics local Wi-Fi on the 3DS. So, if you're using this DS emulator, you may connect to the online community and play games with other people.
On Android, Citra is available and is currently the only working Nintendo 3DS emulator.
Availability — Windows, Mac, Linux, and Android
Why use Citra
Multiplayer mode is supported.

High-quality 10x resolution on the inside
Lemuroid is an alternative to the best DS emulator for Android. In contrast to DraStic, there are no hidden fees or advertisements on this one.
Not only does Lemunroid work with the Nintendo DS, but also the Atari 2600, Atari 7800, Atari Lynx, Nintendo, Super Nintendo, Game Boy, Game Boy Color, and many more!
Quick saves and support for gamepads are among the many necessary features. Moreover, multiple gamepads can be linked together. The Nintendo game app for Android features a library that lists all your games for easy access.
Availability — Android
Why use Lemuroid
Link up a team of controllers.

Compression of ROMs is supported.
Are Emulators even legal? Will you get in trouble for using the best DS emulator?
Do the laws allow the use of emulators? Can you get in trouble if you use the best DS emulator?
There are, in fact, emulators. ROMs aren't a thing anymore. Emulators are just software that pretends to be a video gaming system. This is analogous to the situation with torrent clients, which are perfectly legal while torrent downloads are not.
Similarly, pirating PC emulators is not against the law, but pirating games to play on an emulator is. Nonetheless, there are numerous points of view concerning this issue. Even though Nintendo no longer makes DS games or profits from them, we will defer to the company's official website and say that making digital copies of old NDS games is illegal.
As a result, these PC programs were among the best DS emulator available. The best Android and iOS emulators may pique your curiosity if you want to play mobile games on your computer.
FAQs
How to play Pokemon on PC?
You may play Pokemon games on your PC with the help of Nintendo DS emulators like MelonDS, NO$GBA, and OpenEmu.
Is DeSmuME a good emulator?
As far as emulators go, DeSmuME is excellent.
Is DeSmuME now defunct?
DeSmuME has not been discontinued. Even though they published the final stable build in 2015, you can still repair the previous build with the most recent executable patch.
Does DeSmuME work with 3DS and Game Boy Advance games?
The DeSmuME emulator supports all Nintendo DS handheld game platforms. As a result, the DeSmuME emulator may be used to play 3DS games. It cannot, however, emulate GBA games.