File compression is helpful if you need to share large files across a network or wish to send them in an instant message. It is vital to select the best possible file compression software.
In today's market, you may find a wide variety of file compression programs. While they may share some common features, each program has its own preferred method of storing data in an archive. Picking the best of the many possibilities can take some time. Due to this, we have streamlined the process for your convenience.
7 Best File Compression Software For 2021
The following seven programs are the most useful for working with compressed files, however there are more.
7-Zip is a well-liked piece of open-source software that compresses files efficiently. It is the ideal choice if you need to compress files and reduce their overall size. 7-Zip is open source, thus it can be downloaded for nothing. 7-Zip's powerful AES-256 encryption and other useful features, such as an integrated file manager, interface with Windows Shell, self-extracting capabilities for the 7z format, and a plugin for FAR administration, have made it popular in the business world. One of 7-zip's advantages over similar compression software is that it is available without cost to users.
WinRAR is another another helpful tool used by many. Since it can pick the best compression method on its own, it is highly recommended for multimedia compression. Unlike other compression programs, WinRAR can create RAR files. Many files can be compressed at once with WinRAR's "solid archive box" feature. WinRAR has 256-bit AES encryption, as well as the ability to partition archives into separate volumes, restore damaged archives, and use extended file names.
Users unaccustomed with file compression will find the WinRAR interface to be particularly challenging. Also, if you utilize the free demo version of the software, you'll constantly be pestered by prompts to upgrade to the paid version.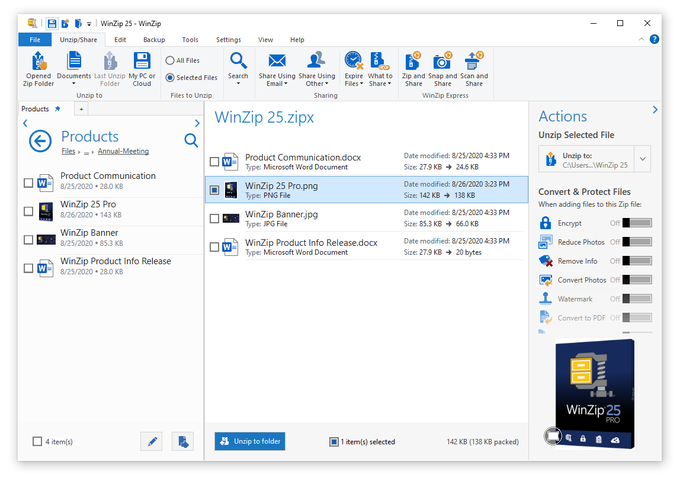 WinZip is one of the most well-known and widely-used compression tools out there. Files can be compressed, encrypted, distributed, and decompressed with ease. All data is encrypted to a level comparable to that used by banks, and users can connect many cloud storage accounts at once, including those with Dropbox, Google Drive, and Microsoft OneDrive. WinZip's ZipSend tool, for example, is invaluable for sending large files via email without using too much space. WinZip's exclusivity to the Windows platform is a drawback, of course.
WinZip is among the best file compression tools because of its features and ease of use.
PeaZip is the compression application to use if you frequently work with ZIP files. This free program effectively reduces file size and stores them in an archive. PeaZip has compatibility for over 150 file formats, an encrypted password manager, two-factor authentication, the ability to search for duplicate files, the ability to break archives into multiple files, and the ability to schedule archiving.
If you need to compress many file types while keeping your system light on resources, PeaZip has you covered.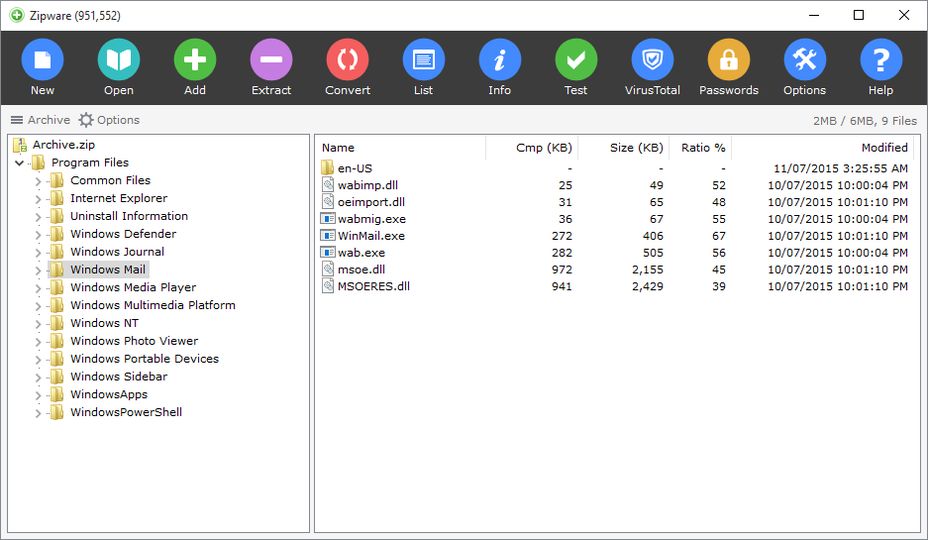 For Windows, Zipware is another another compression utility that stands out. It's capable of handling archives of all sizes with ease and supports virtually all common archive formats. Zipware allows you to create encrypted archives, archive from Windows Explorer, and convert between the 7z and Zip archive formats. The software also provides the option to split large archives into multiple volumes.
Also, Zipware has a password manager built in for safekeeping and easy access to your various login credentials.
If you're seeking for easy-to-use and powerful compression software, go no further than Hamster Zip Archiver. This free program can open any popular file type and its intuitive drag-and-drop interface makes compressing files easy for anyone. In addition, its widespread use among fans of file-sharing is due to its compatibility with other popular cloud services like Google Drive, Dropbox, and Yandex Disk. Unfortunately, Hamster Zip Archiver is Windows-only software.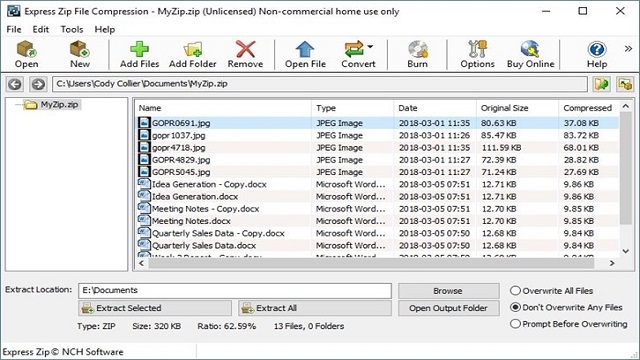 NCH Software's Express Zip File Compression is a streamlined and powerful tool for compressing files. Its free edition is geared for home and basic users, and it can perform standard compression tasks including zipping, unzipping, emailing compressed files, and opening files encoded with data archive formats like RAR, TAR, 7Z, and CAB. Using this program, you can reduce the size of the files you send to friends and relatives by compressing them.
Verdict
Selecting the best file compression software requires thinking about the file types it can handle, the operating system you'd like to use it on, and the compression rate. You can also find a variety of online apps that can help you compress and decompress files and directories on the internet in addition to the tools listed above. There is always some risk when uploading a file to a server, especially if that file contains private information.
FAQs
What file format compresses the most?
The size of compressed files can be minimized to an optimal degree with 7z. The file format for 7zip is called 7z.
Which file-compression software works the best?
WinRAR, 7zip, and WinZip are fast at compressing files, though the exact performance will vary depending on your system.
Which program is used to compress a folder?
To compress a folder, you can use any of the programs mentioned.