Does Windows 10 come with a free word processor? Naturally, Yes. There are a plethora of free word processors out there. Microsoft Word, part of the Office suite, has long been the standard word processor. Free word processors come extremely handy in situations like this.
The price of Microsoft Word is a deterrent for some potential customers. Additionally, people often pay for extras they never use. Several excellent free alternatives to Microsoft Word exist, and I've prepared a list of those compatible with the.doc and.docx file formats. They work fine with Mac OS X and the web and Windows.
6 Best Free Word Processor Software (2022)
Word may be found free from Microsoft, so anyone looking for a word processor won't have to look very far. An official Microsoft account is needed to use Word Online.
No third-party advertisements will interrupt your current activity. Compared to its desktop counterpart, Word's web interface bears striking similarities. For this reason, getting up to speed on all the features is a breeze, and the learning curve is short.
However, unlike Microsoft Word, which costs money, this online word processor is available for free. And yet, it has everything you need.
Pros:
Easy-to-navigate menus and a logical layout of controls characterize the interface.

Any location with an internet connection can use it.

Features a library of pre-made layouts for a variety of document types.

The viewing, reading, and editing options are all present.

It incorporates a spell checker and grammar checker.

Users have the option of annotating selected passages of text.

When using Word Online, users can easily collaborate on documents in a short amount of time.
Cons:
There isn't much of a learning curve with Track Changes.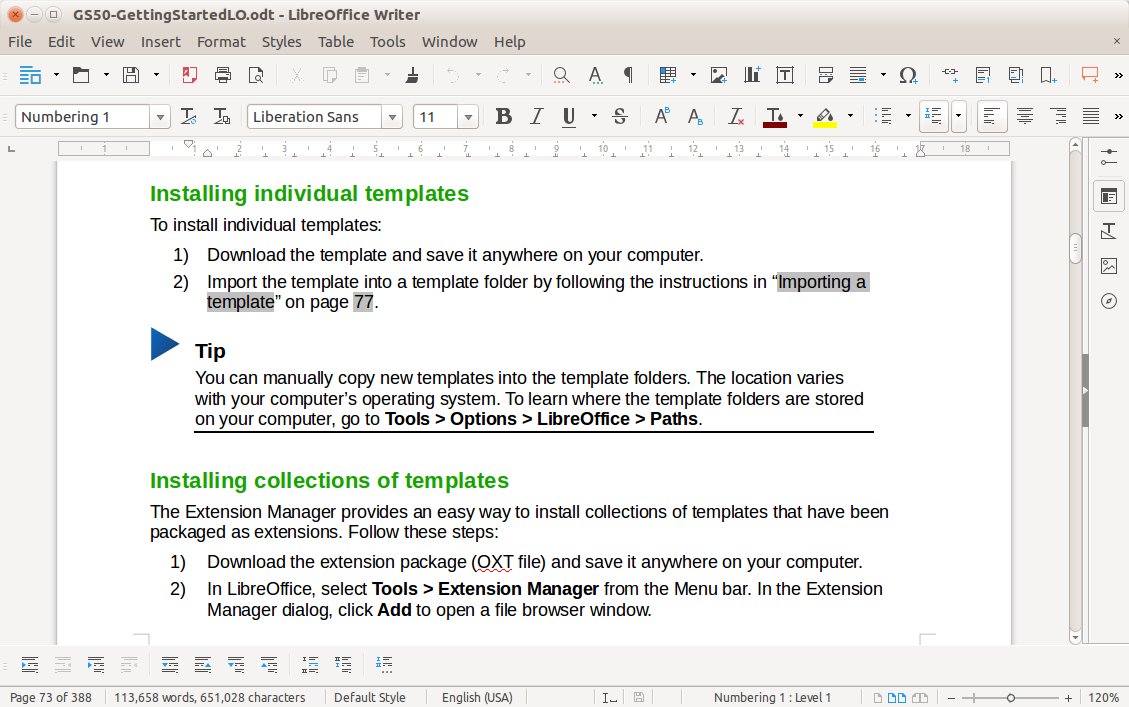 Linux users have the most experience with LibreOffice Writer. You can get this open-source word processor free from the app shops for just about any Linux distribution.
LibreOffice, a spinoff of OpenOffice, includes a word processor called Writer. The document editing software is compatible with Mac OS X and Windows computers.
Pros:
Provides several tools and options for tailoring text to the user's preferences.

Built-in resume, CV, business letter, and other template options.

A native app experience is provided.

An excellent resource for finding similar media and web content.

Since it is possible to open numerous windows, you can work on multiple files simultaneously.

The program has several helpful tools, such as a spellchecker, thesaurus, autocorrect, etc.

Capable of retrieving information from off-site locations like cloud storage and FTP servers.
Cons:
The UI is clunky and difficult to use compared to modern word processors.

Doesn't have any tools for simultaneous work.

It isn't available as a stand-alone app.
Google Docs' speed is an advantage even though it's a web application. Word processing has gone entirely online with the advent of Google Docs, a free service offered by the world's most excellent search engine company.
It's a product that Google promotes under its G Suite label. Almost 13 years after its first release, Google's word processor has expanded to support 83 different tongues.
On Windows 10 and macOS, it's accessible as a web app, but Google has also released dedicated mobile apps for Android and iOS. Here's how you can use Google Docs even if you don't have access to the internet.
Pros:
The interface is elegant and functional, which is impressive given that it is internet software.

Offers a comprehensive set of tools for editing text files.

Help for standard file formats, such as Microsoft Word.

There are several different document samples to choose from.

It has a robust feature for keeping track of the past revisions of documents.

Google Keep, Calendar, and Tasks merge into one seamless experience.

Google Docs's comprehensive sharing controls for your documents.

Dictionary and Google Search functionality built in.
Cons:
When internet access is lost, editing a document is impossible unless offline mode has been activated.
Pages are Apple's standard word processor. It works with any Apple device, including the Mac, iPad, and iPhone. As a result, it has replaced Microsoft Word as the go-to free replacement for Macs.
You can use Pages for document editing, though, if you have a Windows 10 PC. Using your Apple ID and password, log in to iCloud.
Pros:
It's the easiest-to-use word processor out there.

All the necessary options for the user are laid out well.

Features a wide selection of Apple-made document templates.

With handoff, you can easily switch between your various Apple devices.

Allows for simultaneous editing by many users.
Cons:
Not as robust as Microsoft Word in terms of document editing features.

Apple devices have several features not found in other brands.
The online software was developed by the renowned cloud storage company, Dropbox so that you may have confidence in its dependability.
In addition to Google Docs and Microsoft Word, another free option is Dropbox Paper. The UI is very different from what you'd find on competing products, and neither you nor your users will feel overwhelmed by the available customization possibilities.
Its unique approach prioritizes group projects and document revisions over individual ones.
Pros:
The interface is intuitive and easy to use.

Adding media from your computer, YouTube, or Dropbox is as simple as clicking a button.

It provides a simple way to incorporate content from other websites.

Possibility to insert code fragments in a structured fashion.

Dedicated space for keeping tabs on the number of words written, discussions, revisions, and undo saves.

Several popular programs include Google Drive, Trello, Spotify, InVision, Framer, and Figma.
Cons:
Functionality-wise, it pales in comparison to other word processors.

You may need time before you master it.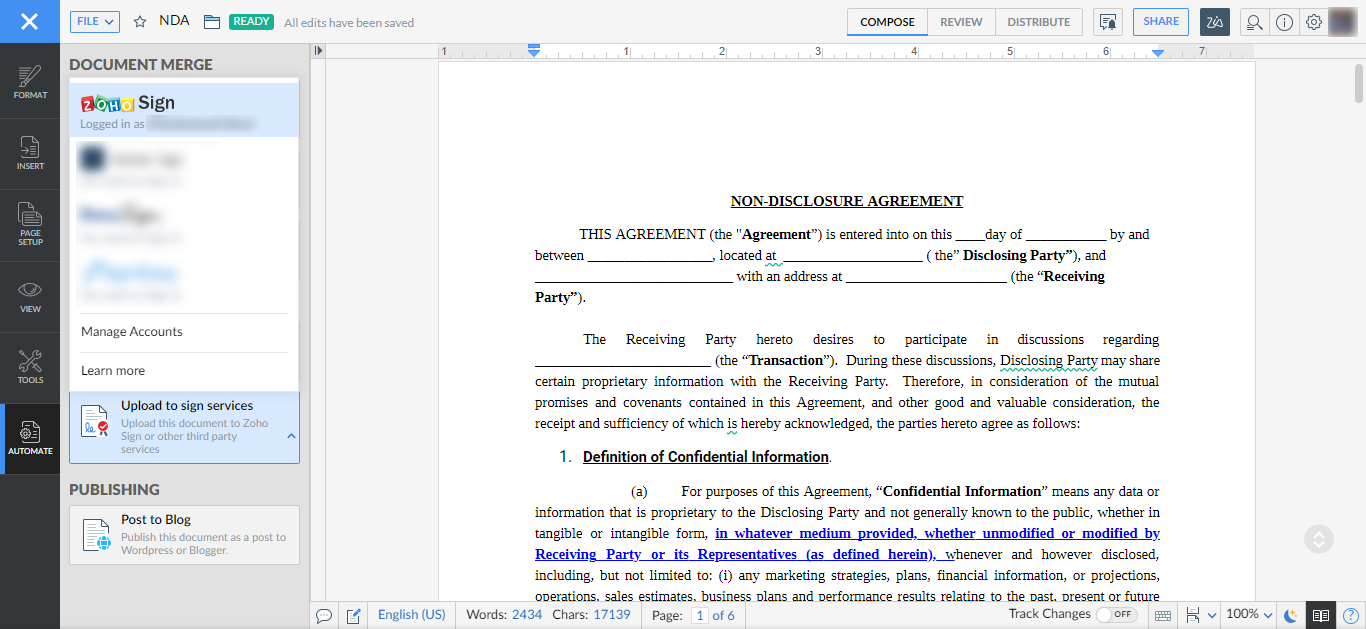 To compete with Microsoft Word, the Zoho Corporation in India created Zoho Writer. If you're looking for a free Word processor, this is one of the best-looking ones. The symbols, however, look much older than those in Google Docs and Apple Pages.
In contrast to most programs, this one places its editing and formatting controls on the side rather than the top. Whatever the case, it serves its goal with many built-in templates and features.
Pros:
Mass-produced, editable, and signable document templates with various format options.

Some of Productivity's features include a "Focus Mode," "Dark Mode," and "AI-driven writing aid."

Real-time interaction between team members, with the ability to track and discuss changes as they occur.

WordPress, Google Drive, Dropbox, and Evernote are just some cloud services you can integrate with this app.

Microsoft Word documents and other popular document file types are supported.
Cons:
The icons and interface design may seem dated to some.

The learning curve has been altered in comparison to other word processors.
Verdict
We feel confident in recommending Google Docs because of its many advantages. Google Docs is available on all major platforms, works with any file format and Google Drive, and can be customized with various add-ons. Having Google's support means fixing bugs, and adding new features won't be an issue.
Finally, in 2020, these were the best free word processors that could be found. As was just mentioned, all of these are superior replacements for Microsoft Word. Please feel free to offer suggestions in the space provided.
Read our other piece for information on free and open-source alternatives to Microsoft Office and its many valuable programs, such as its spreadsheet and presentation creation tools. Moreover, there are times when editing a PDF is essential. If this is the case, PDF-to-Word converters can be used to make the content editable.
FAQs
Is Microsoft Word the best word processor available?
As an alternative to Microsoft Word, you can download any one of a large number of free word processors. Dropbox Paper is as easy as it gets, and you can utilize Google Docs online.
Where can I download Microsoft Word for free?
There is a web software called Word Online that you can access from any device with an internet browser, and Microsoft developed it. On the downside, it's missing certain key features in the more comprehensive edition.
Are there any free word processors that can compete with the pricey software?
You can cut it both ways. You won't be charged, but you won't have access to all the bells and whistles. But the vast majority of open-source word processors have all the basics covered.