Do you, like many others, wish you had access to reliable hard drive eraser software? If you aren't, here are some reasons why you should be:
Although we undoubtedly reside in a cloud-connected age, hard drives still serve an essential purpose in our everyday lives. Over the next few years, cloud computing will become the norm, and local servers will become obsolete. There will be problems caused by hard drives as long as we utilize them, but that day is not here. When this happens, it's critical to delete all data from the hard disk.
Why should you wipe your hard drive?
Delete your hard drive for any number of valid reasons. For instance, data corruption could render your hard drive inaccessible. Or maybe you're selling your old computer and want to make sure no one can find any of your personal information on it (I feel your pain).
When you "wipe" a hard disk, all of its information is completely removed, making it impossible to retrieve. A forensic specialist is required to recover data from a deleted hard drive.
How does a hard drive eraser software work?
Hard Drive Eraser, Data Destruction Tool, Disk Wipe Software, Drive Wiper, and more all refer to the same thing. When you use these programs, sensitive data is removed from your storage device using a variety of data erasure or data cleansing procedures. You'll find names like DoD 5220.22-M, Peter Gutmann, Bruce Schneier's algorithm, and many more on the list.
It's tough for the average user to recover data from a hard drive whose sectors have been effectively replaced with 0s and 1s. Each method uses a unique pattern and set of iterations to overwrite a disk sector.
6 Best Free hard drive eraser Tools on Windows and macOS
The following are reliable hard drive eraser tools; however, many others are out there.
Windows 10 built-in hard drive wiper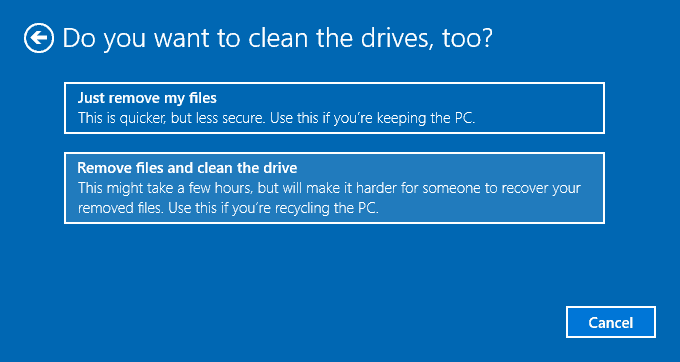 In Windows 10, formatting a hard drive is an in-place operation. A hard drive eraser tool built into the OS can completely wipe your hard drive and make it look new.
But if you want to get rid of everything on the hard drive in your computer, this disk wipe program is for you.
Go to Update & Security > Recovery in Settings to open Recovery.

To start the process, select Get Started below Reset this Computer.

Just click the Delete All button and do as instructed.
Disk Utility for macOS
Suppose you happen to be a Mac user. In that case, you can erase all the data on your hard disk before selling your computer using the data sanitization tool included in macOS.
Alternatively, you may access Disk Utility by searching for it in Spotlight or selecting it from the recovery menu that appears when you first boot macOS.
Pros:
This is the best hard drive cleaning software for those with Macs (it comes preloaded on macOS).

You can erase the hard drive if you use this.

Any kind of storage device, internal or external, can be erased with this program.

Additionally, it can test disks for errors.

The most popular file systems are supported, including FAT, exFAT, NTFS, APFS, Mac Extended, and others.

Both a quick (less secure) and a slower (more secure) method that makes data practically impossible to recover are available.
Cons:
Only macOS-based computers can use this disk-erasing utility.
I am not prioritizing DBAN (Darik's Boot and Nuke) because its development has ceased and is not actively maintained as a hard drive eraser software. Still, it is one of the most effective tools for erasing hard drives.
DBAN, like many other tools on this list, was initially developed as an open-source tool for erasing data from hard drives. However, Blancco of Finland acquired the company's parent in 2015, and DBAN was discontinued in June of that year.
We have written an in-depth piece to help you learn how to use the DBAN software to erase your hard disk permanently.
Pros:
It is the most potent free hard drive wipe software available.

It supports several cleaning techniques, such as the Gutman method, DOD 5220.22-M, DOD Short, and quick erase.

You can use this hard drive cleanup utility in a diskless pre-boot environment after being booted from a removable media device like a USB flash drive or CD.

Allows connected devices to delete their data automatically.

Cleans hard disks using SATA, ATA, and SCSI interfaces.
Cons:
No longer in development, so there is no technical assistance.

The interface is dated and difficult to use for newcomers.
Eraser software is another free, robust data erasing tool that may remove sensitive data from your Windows 10-based hard disk (and prior versions) (and older versions). Eraser's assortment of data sanitization options suits customers with various data cleaning requirements.
If you want to use a data-erasing tool on a bootable CD, you can do so just as effectively with Eraser as you would with DBAN.
Pros:
An independent Windows program for permanently deleting data from hard drives. It may start up from a USB drive or other external media.

It's compatible with many data cleansing methods, including DOD 5022, Gutmann (35 passes), AFSSI-5020, HMG IS5, Schneier (7 passes), and more.

You can delete complete hard drives or individual directories from the machine.

The user can create and save customized disk wipe tasks.

When cleaning a disk automatically, you can set it to begin at a predetermined time. The user has the option of setting up scheduled, periodic data purges.
Cons:
Its installation procedure is more complicated than competing hard drive cleaning tools.

Those without prior experience with the program may find it challenging to get started.
Disk Wipe is one of the most popular hard drive eraser programs after DBAN. This free, open-source software for Windows makes it easy to delete files and folders permanently.
Pros:
It's free, portable, and easy-to-use software for wiping hard drives.

Supports major Windows file systems such as FAT32 and NTFS.

Supports external storage media, including SD cards and flash drives.

Utilized well-known data erasure algorithms, such as Peter Gutman, DOD 5220-22.M.
Cons:
The interface is not appealing to use.

Not feature-rich.
My guess is that not too many people need to be introduced to CCleaner. This widely used program can help you save much-needed storage space on your hard drive by removing unused files.
Some users may be surprised to learn that CCleaner has a hard drive eraser tool for securely wiping away data.
Pros:
It's a no-cost, straightforward, and Windows-compatible tool for securely erasing data from hard drives.

Advanced overwriting with up to 35 iterations is supported.

Depending on your needs, you can overwrite just the free space or the entire disk.

Disks belonging to others can be erased with this device.
Cons:
There is a lack of functionality in the disk wiper tools.

You can't use it with drives that can start computers.
These were a few of the most excellent disk-erasing programs available for Mac OS X and Windows. Keep checking back with us as we work to expand this list.
Verdict
Most of the time, the preinstalled programs on Windows or macOS are all that's needed. This means you can trust them if all you want to do is get rid of your data. However, if you ever need to completely wipe your hard drive in the event of an issue, it is wise to use a third-party application like CCleaner.
FAQs
Can the BIOS delete a hard drive?
You can format or manage your drives during Windows installation. The UEFI BIOS interface does not support disk deletion, though.
Does resetting to factory settings delete everything on the hard drive?
When you perform a factory reset, all data on your hard drive is deleted. On the other hand, it hasn't been cleaned properly. Inaccessibility is achieved without an actual removal.
In what time frame should a hard drive be wiped clean?
Exactly once. In the context of a single session, it makes no difference how many times you try to erase data from a hard disk.