With most modern smartphones equipped with a high-quality camera, scanners and printers are becoming obsolete in the office. You may get apps that help you scan documents quickly and accurately in high definition from the Google Play Store. Here, in 2022, we'll look at some of the best scanner app for android currently available. Some of the benefits of using the best scanner app for android include easy access to documents in the cloud, powerful editing tools, and even OCR (Optical Character Recognition) in some circumstances.
14 best scanner app for android (2022)
Keep in mind that barcode scanner apps and Android scanner apps are two separate things. The former is used to scan QR barcodes, while the latter is used to scan text documents and images. This collection of barcode scanner programs could come in handy if you ever need to scan a barcode.
There are many excellent scanner apps for Android, but Adobe Scan stands out above the others. Documents such as handwritten notes, forms, papers, receipts, and images can be digitized and saved as PDFs with the help of this program. Simple and efficient, it gets the job done. It only takes a moment for your smartphone's camera to perform a scan after you point it at the document you want to digitize.
It also permits changing the color of any page and rearranging its placement. Moreover, the integrated OCR makes it possible to repurpose scanned materials. You can also scan many pages into a single PDF document.
The scanned papers can be sent through email or uploaded to a cloud storage service with the help of the document scanner software. Adobe Scan includes almost every necessary feature. One of the best Android scanner applications, this one is also completely free and ad-free.
Likely, you did not expect this result. The document scanning feature was another unexpected addition to the Android version of the Google Drive app. A document can be scanned using a smartphone and uploaded to Google Drive if the service is installed on the mobile device. When using Google Drive, scanning documents is a breeze.
Given that Google Drive comes preinstalled on all Android smartphones, this is the most hassle-free option for scanning documents.
You may access scanner functionality by tapping the plus button in the lower right corner of the Drive app. The 'Scan' option, among others, will become visible. You must enable the camera permission for the Google scanning feature to work. The device features to crop, correction, color, image quality, and other options crucial to the document's completion.
The best scanner app for android is a great option for users who don't frequently need a scanner app and don't want to take up too much space on their phone by installing a specialized one.
Quickly scan paper and digital images with Clear Scan for Android. You can use the PDF or JPEG converter to make your scanned documents and images more readable. Fantastic Android scanner app that doesn't drain your battery and processes images quickly.
You can print scanned photos and documents with the help of Cloud Print. The free scanning program includes high-quality editing features that are accessible once images have been saved to a gallery.
You can save more than one page at a time, move pages about, adjust PDF page sizes, etc. In the cloud, it is compatible with Dropbox, Google Drive, and Microsoft OneDrive. You can get Clear Scanner for free, but it has some annoying ads that can make it less useful to you.
For scanning papers and whiteboard photographs, Microsoft's Office Lens is one of the best scanner app for android. The capture and conversion of documents to editable formats like PDF, Word, and PowerPoint is a breeze.
In addition to OneNote and OneDrive, you can save files on your computer's hard drive. The software has both business and academic applications. Along with English, it's also functional in German, Spanish, and Simplified Chinese. And the best part is? It's one of the top Android scanner applications because it doesn't bother you with ads and has no optional extra purchases.
With the vFlat Android scanner software, you can quickly and easily digitize your books and notes. To save time, you can set the program to take pictures at predetermined intervals using the top-most "timer" option.
The three-second timer worked as advertised, allowing me to flip pages with my free hand. The necessity to repeatedly press the shutter button after turning the pages is obviated.
The output can be sent elsewhere when the scanned pages have been stitched into a single PDF, you can send the output elsewhere. OCR is also available, with a daily cap of 100 recognitions, that, in my opinion, is more than enough.
If you own an Android device and are interested in scanning old photos, go no further than Google's PhotoScan app.
The Android app performs a rapid assessment and promptly fixes any glare problems. Instead of worrying about the lighting, you should concentrate on finding your old photo album. The software's edge detecting capabilities also allow for photo cropping.
Instantly share your scanned, previously printed images with loved ones by adding them to your Google Photos album.
Tiny Scanner, available on Android, is the best scanner app for android that includes the most often used features. You may jump in and start using the app without registering first.
Scanning documents and saving them as PDF files is an option. Thanks to the Android scanner app's compatibility with the most popular cloud storage services, you may have any necessary papers printed out in just a few short minutes.
It also has automatic edge identification, which aids in image alignment and hence reduces distortion. There are five different degrees of contrast, a quick document title search, passcode protection for private information, and more within the application.
Ads are present in Tiny Scanner, but you can remove them via in-app purchases.
TurboScan, available in free and paid versions, is a powerful, feature-rich Android scanner app. Scan multiple pages simultaneously and save them as high-quality PDFs or JPEGs for easy sharing. It has a multi-page editing mode called "SureScan" that allows you to add, rearrange, and delete pages from a scanned document and scan it in a much higher resolution.
Multiple receipts or business cards can be arranged neatly on a single PDF page with the help of this program. Dropbox, Evernote, Google Drive, and so on can all be used to open PDFs and JPEGs, and you can use Cloud Print to send them to a printer.
Advertisements and in-app purchases are not present in Turbo Scan.
When compared to other Android scanner apps, Smart Doc Scanner ranks right up there with the best of them. It has a lot of useful functions for scanning documents. In addition to spelling checks, it offers optical character recognition (OCR) for reading text from images in more than 40 languages. You have many options, including changing the page size and enabling batch scanning for multiple pages simultaneously. As a bonus, you may use the crop and zoom features to read pages more easily.
The document scanner software supports all popular image formats, including JPEG, PNG, BMP, GIP, and WebP. In addition, other cloud-based storage options like Dropbox and Google Drive are also supported.
There are no in-app ads or purchases available within the program.
Another dependable document scanning program with most of the typical features is Fast Scanner. Documents can be scanned and saved as PDFs or JPEGs, edited many times, etc. Both new and old pages can be added to or removed from the file as needed. You may also use Cloud Print to send your files to a printer.
Downloading the document scanning software for Android is free but will subject you to adverts.
With more features than Office Lens and Adobe Scan, SwiftScan is a strong contender for the title of best document scanner program.
SwiftScan can scan documents extremely quickly, and users have the option to save scans as either PDFs or JPGs. It can read QR codes and barcodes in addition to formal documents.
SwiftScan offers top-notch OCR text recognition. Dropbox, Google Drive, OneDrive, Evernote, Slack, and Todoist are some cloud storage and organization tools compatible with the document scanning app for Android. Auto-upload is also a possibility.
Notebloc is fantastic free scanning software for Android. Notebloc's two best qualities are its lack of watermarks and its absence of a registration requirement.
In addition, OCR for more than 18 languages is included within the software. The Android scanner app shines in that it can take a picture without any shadows appearing on it.
Scan multiple pages into a single document for your convenience. You can change the page size of the PDF in the settings. The major negative of Notebloc is the constant, full-screen adverts that pop up anytime you scan a document.
It's also possible to utilize the free Android software Genius Scan to scan documents. The program has excellent document detection and automatic cropping capabilities. After an automatic crop, you rarely need to modify the proportions manually.
Other than that, it has standard document editing tools such as getting rid of shadows, using filters, scanning several pages at once, and making PDFs out of them. The program performs a great job of removing clutter from the file.
The quality of the resulting PDF files, however, is noticeably lower than that of the other PDF scanner programs we've reviewed.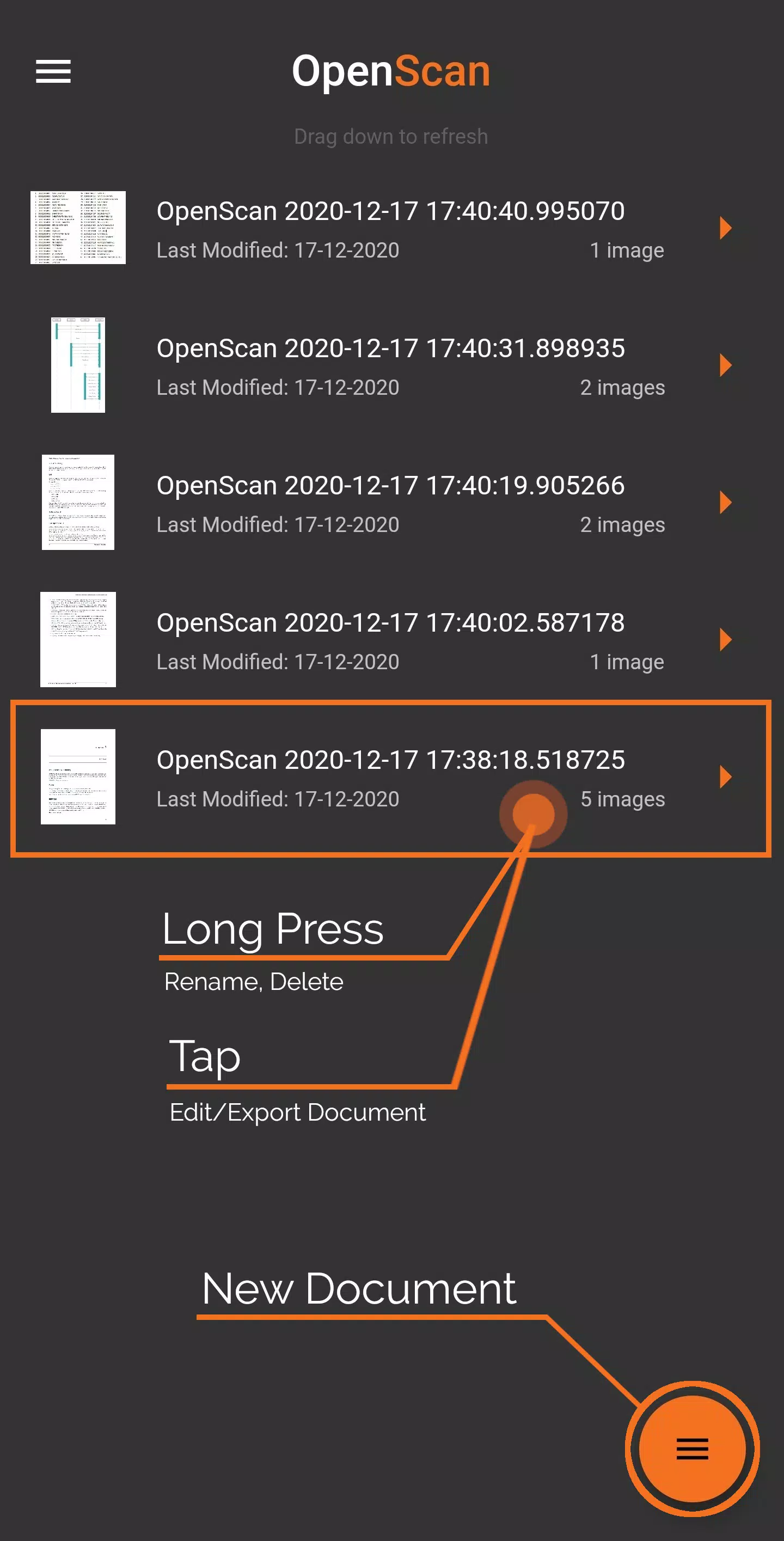 The term "OpenScan" denotes that this program is a free file scanner available to anybody. You don't have to worry about the app stealing and selling your data because its code is available to the public. The learning curve for OpenScan is low.
You can use the camera and the gallery to convert photos into scanned documents. The absence of intrusive adverts is the software's best feature. In general, it's a fantastic app and arguably the best document scanner on Android.
Which Android scanner app do you prefer?
Our picks for the best scanning apps on Android in 2022. The correct option, however, must be determined by the expected outcomes.
Google Drive and Office Lens are examples of pre-installed, user-friendly document scanners; alternatively, Clear Scanner, Adobe Scanner, Fast Scanner, etc., are features-rich solutions that may be of interest.
FAQs
Which is the best free scanner app for Android?
Users agree that the best free Android scanner apps are Adobe Scan and Office Lens apps. But there are a lot of choices to be found here as well.
Can I use my Android phone to scan a document?
Yes! Using the camera on your Android device, you may scan paper documents. The Android scanner software also lets you create a PDF version of your document.
Which program works best for scanning paper documents?
In my opinion, PhotoScan is the most reliable Android app for scanning documents. The high caliber of this Google app is immediately obvious upon first use.