Most people today utilize music streaming apps like Spotify, Apple Music, and YouTube Music to listen to their favorite tunes. This is because they have previously only available features in Android music player apps. Currently, music streaming services offer offline playback, which allows users to add and listen to locally saved music. On the other hand, some music enthusiasts would instead use a free Best android music player app to listen to high-quality music they have downloaded or purchased. Whether you're an audiophile or just a casual music listener, you might improve your listening experience by downloading one of the Best android music player apps from this list.
11 Best Android Music Player Apps 2022
As you'll see in our rundown of the Best android music player apps, the widely-used and freely-distributable VLC player is among the group. Naturally, I had to try out the Android version of the app to listen to MP3s and other audio files.
Although VLC isn't the most aesthetically pleasing choice, it's one of the most functional and compatible with the most range of file types. Most of you are already familiar with VLC as a universal media player.
VLC is no different from other applications in this regard; it has a dedicated audio section that catalogs your phone's music library and organizes it into categories like "Artists," "Albums," "Tracks," and "Genres." Having multiple menu/option buttons in different places isn't the most user-friendly design, but it does the job. Features such as a sleep timer, playback speed dial, equalizer, and "set as ringtone" are present, as are many other types of Android mp3 players.
Pros:
Software with a free and open source license.

Minimalist and straightforward user interface.

Multiple format support.
Cons:
Many problems and bugs have been found in recent releases.

The subs download feature is sporadic at best.
As its moniker suggests, the Best android music player Poweramp packs a punch. You can count on it to play your music and any other Best android music player.
Users can change the player's color scheme and adjust several UI settings on Android devices. Further, a 10-band equalizer with various controls is available. The bass and treble controls are also available separately.
The music visualizer is excellent because it can be adjusted to fit your tastes. On top of that, Poweramp has all the standard features, such as a sleep timer, lyric finder, tag editor, and more.
After getting used to its many options and features, Poweramp quickly became one of the best Mp3 music player apps for Android. Poweramp offers a free 15-day trial, after which you can purchase it for $4.99.
Pros:
Extensively adjustable and possible to use skins made by other designers.

One of the best equalizers around.

Create your graphic representations of musical compositions.
Cons:
Trial period of fifteen days.

The most recent updates contain some mistakes.
Lightweight and packed with features, Musicolet is an ideal music player.
To use, simply click once to pause/play, twice to skip to the next track, and three times to go back to a song using the earphone buttons to control your music player. In addition, you can go ahead four seconds at a time in the playlist.
It brags that it's the first and only Android music player app to support multiple simultaneous playback queues. Musicolet's layout is well thought out, with separate tabs for different types of content (folders, albums, artists, and playlists).
Several widgets, such as an equalizer, tag editor, and sleep timer, are also included. Functionality-wise, it's among the best Android music players of 2022, if not the best.
Pros:
Ability to create more than 20 queues at once in this multi-queue manager.

You can edit album art for many tracks in the same tag editor.

Bluetooth headphones with sophisticated audio controls.

Android-ready automobiles.
Cons:
Risks are shutting down if attempts are made to conserve battery.

Some smartphones running Android 11 are experiencing playback issues.
If you're looking for the Best android music player, look no further than Pi Music Player. It's beautifully designed and built and has every feature you could want.
At startup, you'll be asked to choose a skin from four different possibilities; each skin has certain customizable aspects. Its sleek design and user-friendliness make it a breeze to get up and running. Its music catalog is diverse, and you can listen to it from different points of view (tracks, albums, artists, genres, playlists, folders).
As a bonus, it comes with a Sleep Timer, widget compatibility, a ringtone cutter, and many other handy tools. The Pi Music player app is ad-supported and available for free on the Play Store. With additional payments, commercials can be disabled.
Pros:
The Virtualizer, 3D Reverb Effects, and Bass Boost are just a few of the 5-Band Equalizer's options.

Use the Pi Power Share feature to talk about your favorite tunes with others.

The ability to see audio files as a folder has been improved.

Compatibility with media played back in audio forms, such as audiobooks and podcasts.
Cons:
Specific user-defined battery profiles can cause playback interruptions.

It's not always possible to manually update album artwork for tracks.

Unfortunately, the program may have trouble recognizing specific music file formats.
If you're looking for a simple music player app with all the features you'd need for frequent use, go no further than AIMP Music Player for Android. The playback panel features standard playback options like repeat and shuffle. In addition, you get features like a sleep timer, variable playback speed, adjustable volume, and an equalizer.
If you want to get the most out of this Android music player, you'll find many essential and advanced settings in its menus. In addition, you can alter the map's appearance as you see fit via the control map control. One of my favorite features is the option to see the song's artist, composer, genre, year, file type, bitrate, and storage location by just tapping on the name.
Pros:
Easy-to-understand app.

A plethora of high-end extras for music lovers.

Accepts a wide variety of file formats.
Cons:
Irritatingly persistent prompt to begin.

Sometimes the sound will just cut out of nowhere.
If you're looking for an easy-to-use, free, and open-source music player for Android, give Music Player GO a try. Low-budget Android smartphone owners who utilize Android will find the mp3 player a welcome relief.
The Android app has a streamlined, simple, and "unified" user interface with no ads. There's also an equalizer and several skin options. Different volume levels from the device's default settings are also selectable.
The program allows you to organize your music collection by artist, album, and folder and to exclude specific folders from the shuffle. The Music Player GO is a top-tier free music player for Android. There are additional distribution options, including F-Droid and GitHub.
Pros:
Updates are introduced frequently to the program.

Free and open-source programs with no advertising.

Simple user interface.
Cons:
It rarely happens that the shuffle feature does not function as expected.
If you're looking for a robust Android music player, look no further than MediaMonkey. Albums, audiobooks, podcasts, artists, songs, genres, and even composers can all be searched for in its collection. You can check out the folder view for 15 days at no cost. Searches are returned quickly, and it predictably provides artists and songs.
If you have an album and can't find the cover art or song lyrics, MediaMonkey can help. You may sync the Android media player with MediaMonkey on Windows. When enabled in Preferences, the seek bar of music will appear in the Notifications panel. Extras include a sleep timer, tag editor, widgets for the home screen, and more. It's a great music player that works well with Android.
Pros:
Five-band equalizer with volume balance in stereo.

Chromecast, UPnP/DLNA, and Android Auto compatibility.

The ability to set bookmarks in large media files like audiobooks and videos.

It works with other scrobblers, such as Last.fm and Scrobble Droid.
Cons:
Several songs have been stored with the wrong album art.

It seems to be incompatible with audiobooks.

Weaknesses in Android Auto's functionality are a problem.

The website is rarely updated.
Phonograph has a sleek Material Design user interface and looks great doing it. The user interface dynamically adjusts its color scheme to match the displayed information. Because of its theme engine, you can style the player in any way the user likes. This music player app for Android is not only beautiful to look at, but it also has tons of valuable features.
All of the media data that Phonograph is missing can be downloaded quickly. Tags like music titles and artists are easily editable with this player's built-in tag editor.
The lock-screen controls, gapless playback, and alarm clock are some of this software's other features. The program supports in-app buying.
Pros:
Albums, artists, and playlists are all distinct ways to navigate the collection.

For complete personalization, a theme engine is included.

The addition of Last.fm integration for downloading extended song information.
Cons:
A lack of regular updating

There are issues with specific music formats that need to be resolved.
Pulsar is one of the most downloaded free music player apps for Android because of its small size and zero cost. It doesn't have any annoying ads, is easy to use, and has a beautiful design and smooth animation. You can also change the user interface to have a different color palette. Albums, artists, genres, and folders are all options in Pulsar's library display.
The premium version of the program includes a five-band equalizer, gapless playback, a widget for the home screen, an integrated tag editor, and more. Despite its small size, Pulsar is a top-tier music player for Android.
Pros:
Support for transitions between two different sounds.

Included Chromecast and Android Auto support.

Provides smart playlists based on most played, recently added, and most played tracks.

Simple and fast album/artist/song searching.
Cons:
Lacking regular updates

Unfortunately, playlists aren't always saved.
One of the best free music player applications for Android is Omnia. The application doesn't have any annoying ads and has a sleek material design.
Among the many features offered by the app is support for lossless audio, an editor for metadata tags, gapless playback, and lyric display.
The Android music player is compatible with both Chromecast and Android auto. It comes with Freeverb reverb settings and a 10-band equalizer, but these features are paid upgrades.
Pros:
Accepts a wide variety of file formats, including ape and dsd.

Chromecast and Android Auto compatibility.
Cons:
A lack of regular updating

A lack of essential Android Auto support.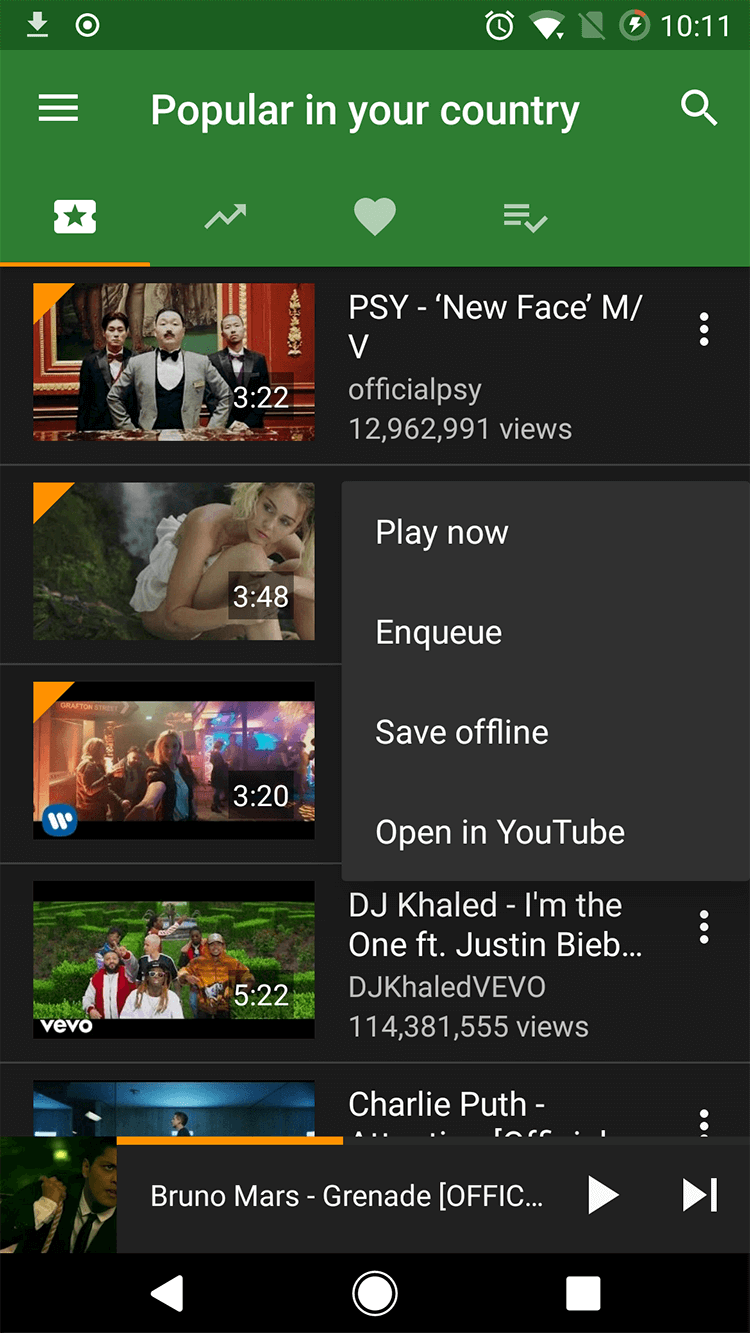 YMusic doubles as a music player and a YouTube downloader. This free app is the best music player for Android users who get their tunes from YouTube.
You can play YouTube video audio via the Music tab in the Discover section. Plus, it lets you keep the music going in the background, making it an excellent substitute for YouTube Music.
The player features a button that allows you to download content. You can get the tunes in M4A and MP3 format from this link. You can download music from a variety of bitrates. It is concerning privacy because you can't find the app in the Google Play Store.
Pros:
An alternative to listening to music on YouTube.

Authorizations are only given out on a case-by-case basis.
Cons:
Disappointingly few features compared to similar apps.
Verdict
The popularity of music player apps may drop due to the proliferation of music streaming apps that support offline playback. But many Android users still find value in these programs.
The Pi music player is the best choice because of its wealth of features and clean design. Its ability to play audiobooks and podcasts and its built-in equalizer and Pi Power Share feature set it apart from similar products. However, remember that choosing the right player depends on your specific needs, such as Chromecast support, lyric syncing, customization choices, lock screen widget, and so on.
Do you feel better informed now about the best Android music players? Leave your thoughts in the space provided below.
FAQs
Which music player is the best for Android?
After 50 million downloads, the Pi music player has an average rating of 4.7 out of 5 stars, suggesting that most Android users consider it the best alternative.
Which music app is the best?
Because of its extensive catalog of radio-friendly songs and podcasts, I recommend Spotify as the finest cross-platform music app.