We must acknowledge that music is the most beautiful human creation. Music can help you relax immediately, but it also helps clear your mind. We hear numerous tunes every day. Occasionally, we adore a specific song so much that we want to use it as our phone's ringtone. However, we cannot utilize lengthy music as ringtones due to limitations. Since we all use Android devices, it is possible to set your favorite music as a ringtone with ringtone maker apps.
If we search for ringtone maker apps on the Google Play Store, we will discover a vast selection. However, not all are effective.
10 Best Ringtone Maker Apps For Android in 2022
To assist you in converting a song into a ringtone, we have compiled a list of the top Android ringtone maker applications. These applications are primarily MP3 cutters that allow you to extract a portion of any music for a ringtone.
MP3Cut Pro, often known as Ringtone Maker, is an Android application that can extract music from any movie. After extracting the audio, you can trim it and set it as the ringtone for your phone.
MP3Cut Pro is easier and much lighter than other Android ringtone-making applications. In addition to ringtones, you can generate alarm tones, notification sounds, and more. MP3Cut Pro is an excellent Android application for creating Ringtones.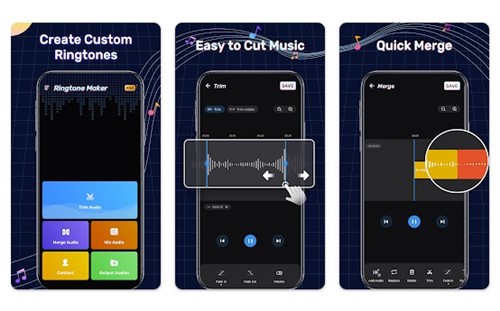 The Android software Ringtone Maker: Music Cutter allows you to trim, clip, and merge audio files. You may also use it to combine many audio files to create a unique ringtone.
In addition to reducing or merging audio clips, Ringtone Maker: Music Cutter allows you to apply numerous music effects to your ringtones, such as fade in/out. This application allows for the creation of ringtones, notification sounds, alarm tones, and more.
Ringtone Maker enables the creation of ringtones, alarm tones, and notification sounds. It is a free tool for cutting, pasting, and merging audio files.
In addition, Ringtone Maker can also apply the fade-in/out effect and change the MP3 loudness. Compared to other Ringtone maker applications on the list, Ringtone Maker is more user-friendly and compact.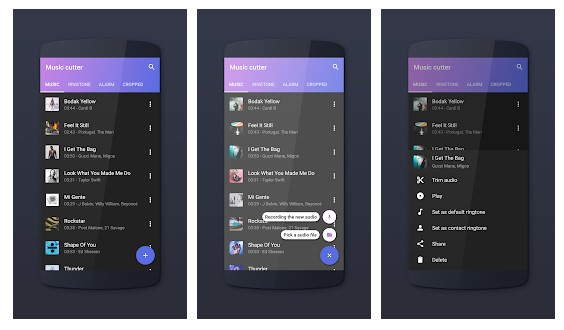 Try Music Cutter if you are looking for an easy-to-use MP3 cutter app for your Android smartphone. Despite its small size, Music Cutter lacks no essential functions.
With this application, you can easily extract the best portion of a song to use as your ringtone, alarm, or notification sound. Moreover, the software allows you to trim any music file, including MP3, WAV, FLAC, ACC, etc.
Ringtone Cutter for Android, as its name implies, allows you to trim any portion of music for use as a ringtone. The application supports nearly every popular music file type and is quite user-friendly.
Therefore, if you are looking for an Android app that makes it simple to create Ringtones, Ringtone cutter may be your best option.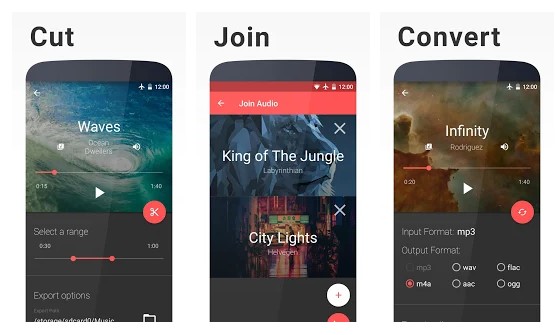 It is a video editing application with extensive audio editing capabilities. It permits users to trim any portion of audio and video files. That implies you can also generate ringtones using Timbre.
The application enables users to split, connect, and combine audio files. However, the software is more difficult to use than the others described above.
Ringtone Slicer FX is a fully functional ringtone cutting app for Android handsets. You can simply generate unique ringtones and modify your favorite music files with Ringtone Slicer FX.
The application offers an exceptional user interface and contains no advertisements. Ringtone Slicer FX contains an Equalizer for increasing bass and treble, loudness compression, and additional audio effects.
Audio MP3 Cutter Mix is one of Android's most potent music-cutting apps. This program provides more options for creating a ringtone than any other Ringtone creator app.
Using Audio MP3 Cutter Mix, you can effortlessly cut the greatest section of a song, merge two or more audio clips, mix audio clips, and modify the metadata fields, among other things. Audio MP3 Cutter Mix can also convert audio files from one format to another.
It is one of the highest-rated ringtone cutter apps available on Google Play. The greatest feature of the MP3 cutter is its ability to extract audio from any MP3 or video file.
The MP3 cutter also enables users to mix the connected MP3 segments to create MP3 ringtones, Notification tones, alarm tones, and so on.
Music Hero, like all other ringtone creation applications, permits users to extract the best portion of an audio file and store it as a ringtone.
Music Hero's Ringtone Maker program supports various audio file types, including WAV, MP3, AAC, AMR, and 3GP. Additionally, there is an integrated MP3 player.
These are the finest Ringtone-creating applications for Android smartphones. These applications are free to use, and they perform their functions admirably. Please let us know in the comments if you would like to propose another app.