Most modern web browsers come equipped with a PDF reader, making them the obvious choice if you need to open a PDF file. Since then, fewer people have needed access to a PDF reader or viewer software. Features like digital signature, form filling, annotation, etc. constitute the meat and potatoes of a sophisticated PDF reader app. There are a plethora of pdf readers for windows 10 available for download. But how can you decide between all of your choices? As a result, we have compiled a list of the best 10 PDF readers for Windows machines. Adobe Acrobat Reader DC, SumatraPDF, Foxit Reader, etc., are only some of the well-known programs that will be on the 2022 list.
10 Best PDF Readers for Windows 10 (2022)
In 2022, finding pdf readers for windows 10 that work for you is simple, but you need to know your options. Let's discuss the various pdf readers for windows 10 and figure out which one is ideal for you.
If you need a program to read PDF files, I highly suggest Adobe Acrobat Reader. It's common to run into too complex PDFs for your average PDF reader. Here, I'll discuss the fillable forms you can't use with a regular Windows PDF reader.
Adobe Reader for Windows allows you to examine documents in various formats, highlight text, annotate them, fill out forms, add digital signatures and stamps, and more. Thanks to its tabbed interface, open multiple PDFs at once with Adobe's free Windows PDF reader.
Adobe Acrobat Reader DC is the way to go if your needs are more nuanced, you want more out of your PDF reader than just "reading," and you want access to a wide range of additional features. Also, it's the best PDF reader for extremely large files that most other programs can't handle.
Pros
Capable of modifying and changing PDFs.

Offers state-of-the-art features like editing and digital signatures.

It supports various operating systems and has an upgraded paid version with many extras.
Cons
Several nitpicky issues with the software.
SumatraPDF is a small and free PDF reader that works on Windows PCs. It is open-source software distributed under the GPLv3 license. It can read and write various documents, including EPUB, MOBI, FB2, CHM, XPS, DjVu, and PDF.
To reiterate, this top-tier PDF viewer is free, and its 64-bit installer takes up only roughly 5MB of space. If you're looking for a PDF reader that gives a fast and smooth experience and has all the features you'll need, then SumatraPDF is the right choice. Annotations, digital signatures, and form filling are some of the more sophisticated features that are missing.
It has many shortcut keys to help you go about and enjoy reading more. Many text editors may be set up to incorporate Sumatra, which has an easy-to-use preview for LaTeX documents. There is also a "restricted mode" for use with the free PDF viewer.
Pros
Includes ePub among its supported file types.

This is a relatively modest program submission.
Cons
Not having access to modifying software

Complex functionality is not supported.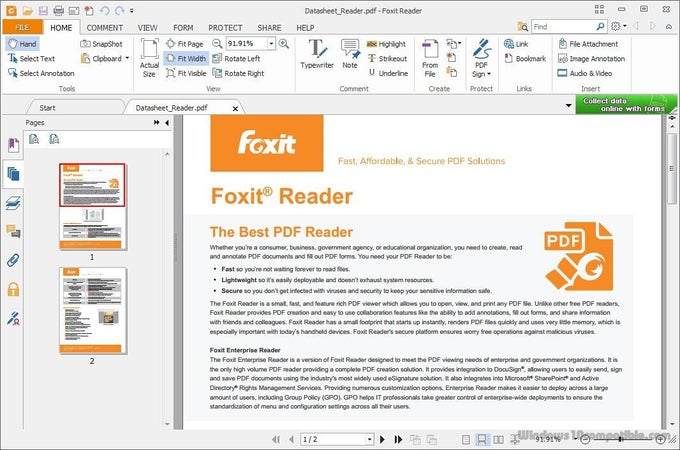 Foxit Reader is a free and complete PDF reader for Windows 10, 11, and older versions of Microsoft Windows.
It is an extremely popular document reader comparable to Adobe Acrobat Reader DC. Foxit, however, is much more compact than Adobe's PDF reader.
Foxit has recently introduced its new cloud-based ConnectedPDF DM system. The file is shown in a format similar to Notepad, thanks to the Text Viewer option.
The ability to work together on a document and then easily share that work online is a huge boon to anyone using PDF. It's a high-end software with every feature you'll need to view PDF files.
Pros
System for storing and distributing information online.

Allows users to work together effectively.

Integrated with state-of-the-art editing tools.
Cons
Issues with previous versions of Windows and some applications.

Uses a lot of my computer's resources.
One more piece of free software is Visagesoft's Expert PDF Reader. The design is reminiscent of earlier versions of Microsoft Office. Because it does its job so well, Expert PDF Reader deserves serious attention.
This Windows PDF reader has extensive functionality and can open nearly any PDF file. Files created in other applications can also have their annotations, stamps, etc. modified this way.
This free PDF viewer also allows you to access multiple PDFs at once, bookmark certain pages within those PDFs, and see previews of those pages.
Pros
Accepts a wide variety of file formats.

Handles large files with ease.
Cons
Can't compare to more advanced tools and features.

Do not use it if you have previous user experience.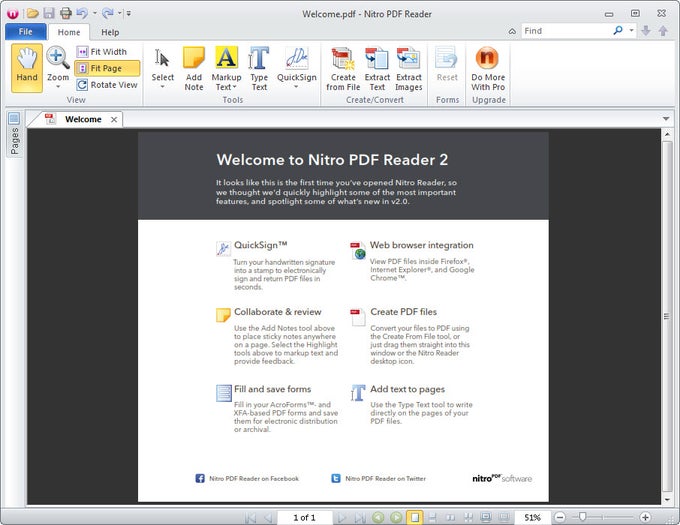 One such well-known name in the world of office and productivity software is Nitro Reader. I like this free PDF viewer because it provides a good balance of simplicity and functionality. A lot of new features are left out of it. It has the same streamlined design as the rest of Microsoft Office.
Nitro Reader also has the QuickSign function to complement its usual features, which makes digitally signing documents a breeze. To add an extra layer of security, you can restrict access to your documents to only those who have been issued a digital certificate by you. If you need a PDF reader for Windows that is both easy to use and aesthetically pleasing, go no further than Nitro Reader.
Pros
Comfortable navigation for the average user

Offers a wide variety of high-end options.

This program has several features that you can only find in it.
Cons
All users must use a demo version of the commercial software.

Multiple functions available in the free version are disabled.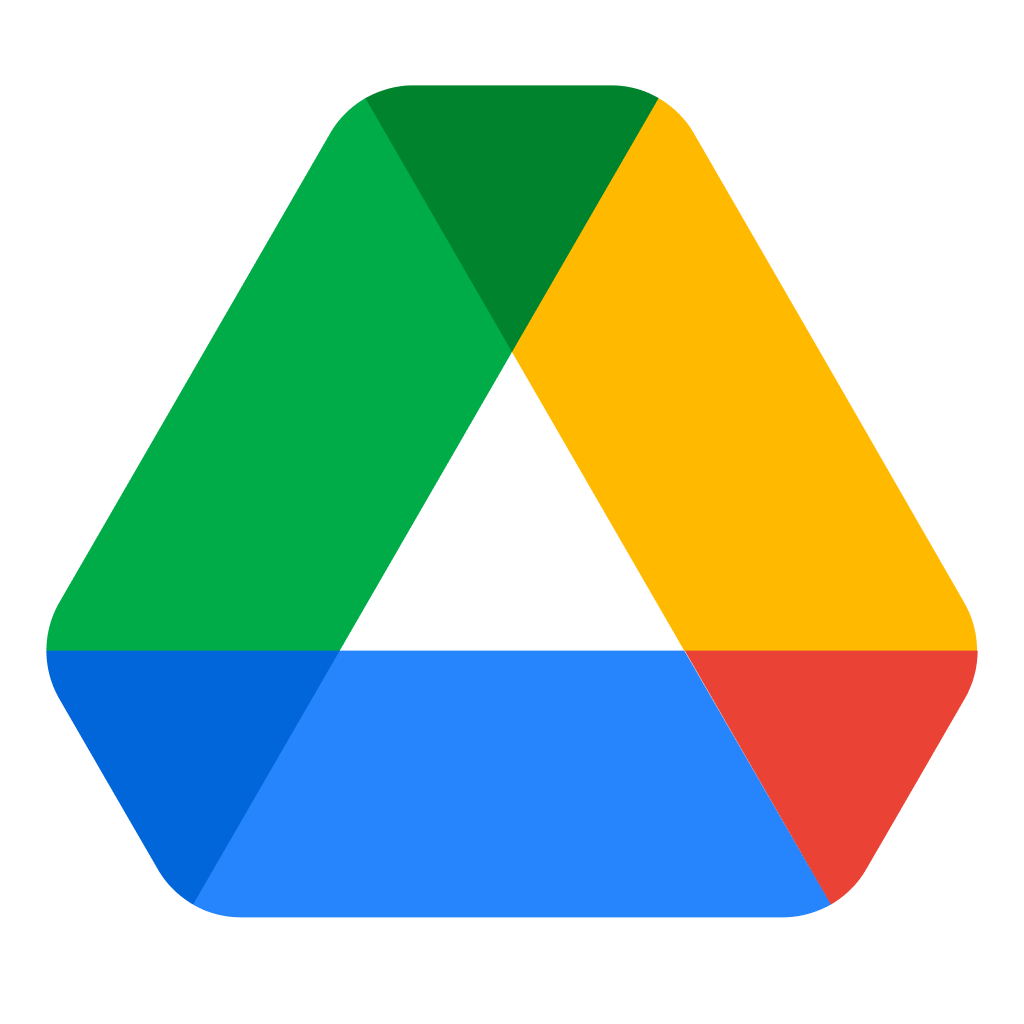 Google Drive, just like your web browser, can read PDF files without any additional software being installed. In contrast to the other Windows apps on our list, it only offers a web-based PDF viewer.
Standard features like PDF printing, downloading, and searching are all included. If you want to edit a PDF, you must open it in Google Docs and choose the option.
This PDF reader can do more than just open standard PDF files; you can add functionality by linking it to other Chrome programs. Overall, if you store the vast bulk of your documents in Google Drive, it can be a great replacement for traditional pdf readers for windows 10.
Pros
Web browser and device compatibility.

Any device can open a PDF file.
Cons
There is a severe lack of sophisticated editing options.

There is just a digital version available.
Web Browsers – Chrome, Firefox, Edge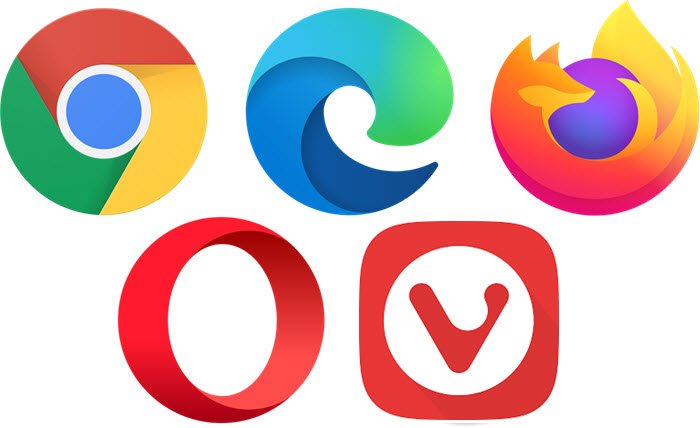 If reading PDFs is all you care about and you don't need or want all the bells and whistles that come with pdf readers for windows 10, then there's no reason to pay for anything more than a standard reader. A free PDF reader is built into popular web browsers like Google Chrome, Mozilla Firefox, Microsoft Edge, and Opera.
That's because they're built into your browser and get updated whenever it does. PDF files open in your browser when you click them, making for a distraction-free reading experience. Functionalities like text resizing, image rotation, downloading, and printing are available in all browsers.
You can open a PDF file in a web browser by dragging it into the browser window. If you right-click on the file, you will get the option to "Choose Another App," where you may select your preferred web browser. If you only open a PDF file once in a blue moon, your web browser is already the best PDF reader you can have.
Pros
Controlling PDFs efficiently.

Practical for the typical user.
Cons
You can't edit PDF in any way.

Not for savvy users.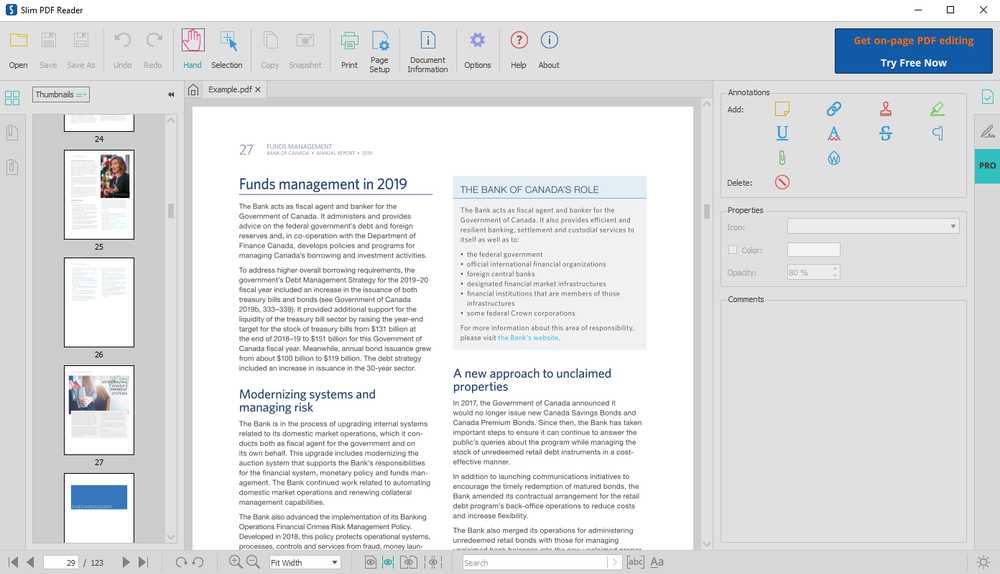 Slim PDF is another light PDF reader for Windows 10/11 that can be used as an alternative to SumatraPDF. The creators of Slim PDF state that it is the world's smallest desktop PDF reader.
It has recently been updated with a new user interface that includes the preferred dark mode. This free PDF application does exactly what you'd hope to do: read, display, and print PDF files.
The highly lightweight Slim PDF format helps you get your work done quickly. If you're using this PDF reader on Windows, you may have noticed that it doesn't work with many standard keyboard shortcuts. There's no word-by-word highlighting, either. In any case, it's a handy PDF reader that you can take anywhere.
Pros
The software is quite small in size.

Comfortable navigation for the average user
Cons
Can't boast any fancy extras.

Worse than useless file management.
It offers all the essential features for viewing PDFs that you'll need for regular use. Full-screen, continuous, and side-by-side are just some common reading layouts available.
With a 2MB download size, Javelin is far less than Adobe Acrobat Reader DC and Foxit Reader. PDF files with digital rights management (DRM) protection can be opened and annotated in this free Windows PDF viewer without a hitch.
Pros
The software is quite small in size.

Those who only care about seeing PDFs will find this a useful tool.
Cons
You can't edit PDF in any way.

Not for savvy users.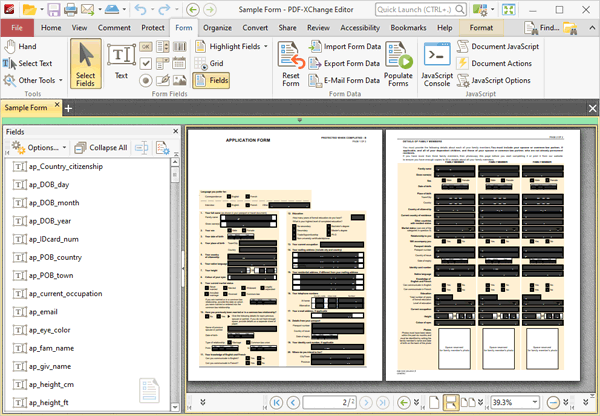 Free PDF reader PDF-XChange Editor has been revamped for Windows 10 and 11. You can now view PDF files, printed, annotated, saved with embedded images and text, etc., with lightning-fast load speeds and little resource consumption.
The previous version, simply called PDF-XChange Viewer, lacked even the most rudimentary editing tools and was, therefore, not made available to the public at no cost. You will also have access to optical character recognition and a digital signature. However, there may be too many options on the user interface, so it could use a redesign to clarify things.
The creators of PDF-XChange Editor claim that the free version is just as feature-rich as the paid premium version.
Pros
Comfortable navigation for the average user

Provides the bare minimum of usability.

Capable of creating PDFs from preexisting files.
Cons
Editing features are only available in paid editions.

costlier than equivalent options on the market
What is PDF? Who created it?
Acrobat Reader's parent company, Adobe Systems, developed the Portable Document Format (PDF) in the 1990s.
To a large extent, PDF's greatest strength lies in the fact that it maintains the document's original features and formatting. A Microsoft Word document, for instance, will look different in any other word processor you use.
PDF also makes documents uneditable by third parties, preventing any changes to the original file. This is an essential element in cases involving sensitive data, particularly in an era where fake news is rampant.
Which one is the best PDF reader for Windows 10/11?
2022 standards have compiled the best pdf readers for windows 10 and earlier versions. Your choices may change based on your own needs and preferences. An open-source PDF reader, a free PDF reader, and a paid PDF reader with extra features are just a few examples.
In my opinion, you already have access to fully-featured PDF readers such as Adobe Acrobat DC, Foxit Reader, and Nitro PDF. Standard PDF readers for Windows offer all the features necessary for routine use. You may read PDFs online in your browser or Google Drive if you'd rather not install a separate program.
FAQs
What is the default PDF reader on Windows 10?
However, a PDF reader is not included in the base Windows 10 installation. However, you may open PDFs quickly and easily on the default Edge browser.
How can I make changes to a PDF on my computer?
You cannot edit PDFs in most pdf readers for windows 10 and web browsers. Numerous open-source PDF editors exist for making changes to PDF documents.
Is PDF better than Word documents?
This question defies a simple answer. A PDF document's advantage is that it is usually uneditable, which is useful when the document contains sensitive data.