Those who have made a sizable financial investment in their music library frequently seek out the best free music player for Windows 10/11 or other operating systems.
This is because music lovers may now listen to their collections whenever they choose, thanks to the convenience of these audio player programs.
As of 2022, a plethora of Windows music player software is available. However, certain non-functional music players from the past cannot be repaired. Instead of using Microsoft's Windows Media Player, you should use Groove Music, a cutting-edge audio player designed just for Windows 10. Furthermore, a new Media Player program from Microsoft has replaced Groove Music in Windows 11.
Although free music apps for PC have declined in popularity over the years, many listeners still prefer local options over streaming services. Let's look at the best free music player programs for Windows 10/11 in 2022.
As a side note, we have developed a list of software compatible with Windows 10/11 and earlier versions. Please be aware that the names are presented in no specific esteem order.
10 Best Free Music Player Software for Windows 10/11
It is a free and open-source music player for Windows that fools users into thinking it was developed by Microsoft but is not included in the Store. Dopamine, on the other hand, is a viable alternative to Windows Media Player.
After installing Dopamine, what you see and feel is enough to rank it among the best free music player apps.
This well-liked music player for Windows is praised for its intuitive design and smooth operation. All settings and features are easily accessible without straining the eyes. You can modify dopamine's interface in various ways to make it more suitable for individual needs.
Dopamine is compatible with several different audio file formats. This music player has some old features, but users can still benefit from automated meta-tagging and real-time lyric display.fm scrobbling, and more. To use some Dopamine capabilities, the user's computer must run Windows 10 or 11.
Features:
Several languages are supported.

There is a wide variety of topics.

Controls for playing tunes are conveniently located in the taskbar.
Winamp was the de facto gold standard of free Windows mp3 player software in the late 1990s and beyond. It is a lightweight media player with a flexible interface and a wide range of configuration options.
This high-tech music player for Windows PC allows you to do a wide variety of things, such as organize your own media library, create custom playlists, play a variety of audio formats, sync your library with mobile devices, and watch visualizations. Winamp has a built-in web browser, so you can check out your preferred music site without ever having to leave the software.
But Winamp's custom skin support is a big deal because you can tailor the program to your tastes. Winamp is a top candidate for its many capabilities when considered the best Windows music player.
In addition, a new and improved version of Winamp is now in development and could be launched soon.
Features:
Assistance with copying and burning CDs.

Allows use of a wide variety of add-ons and skins.

A visual representation of the sound being played.

Complete with built-in volume control.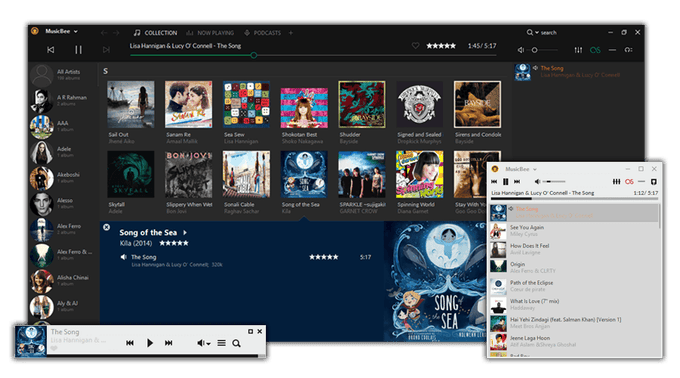 It is a popular choice among the best Windows 10/11 music players. MusicBee has been around for more than ten years and works on Windows 7 and 8.
The music player's user interface is so refined and well-organized that you'll like it as soon as you start using it, and the color scheme only helps to cement that impression.
This open-source music player is free, and its creators have made it easier to make a move. It's simple to transfer your entire iTunes library to MusicBee. It is compatible with various audio formats, such as MP3, AAC, WMA, WAV, M4A, FLAC, OGG, APE, and TAK.
This audio player is compatible with Android phones, certain iOS devices, USB drives, and other portable music players. It can keep an eye on your hard drive for new releases and download them automatically, or it can do both simultaneously.
Several skins and plugins are available for MusicBee, allowing for personalization (it also supports some Winamp plugins). MusicBee has automated metadata import, CD ripping, DSP effects, a 15-band equalizer, and more.
MusicBee doesn't take up much room on your computer. It's possible to set it up on Windows like any other program. This music player for Windows is also available in a portable form. MusicBee also has a Universal Windows Platform (UWP) version that you can download from the App Store.
Features:
Integrated with a variety of filtering options for the audio.

Accepts plugins written in the Winamp format.

Your smartphone and computer can share the same data.

Helps with a wide variety of topics.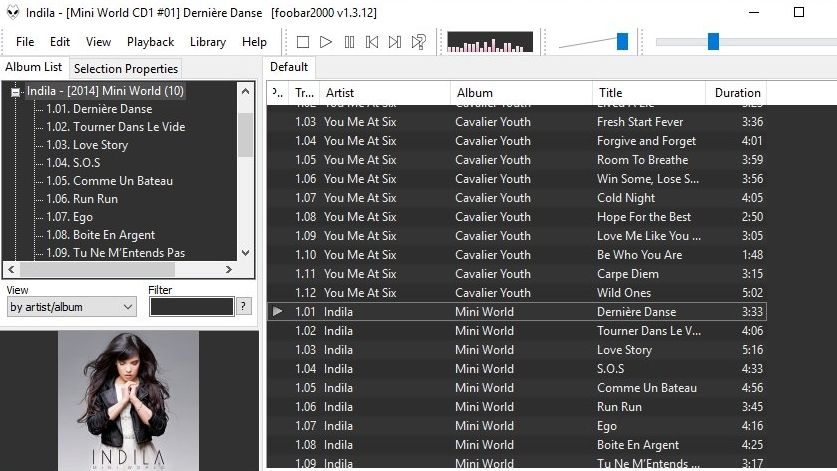 Since its inception, Foobar2000 has attracted a dedicated fan base. The modular nature of this lightweight Windows 10/11 music player is a major plus. Thus, the open-source music player makes it easier to include new features and components.
Foobar2000 works on Windows 10/8.11/7/Vista/XP/Vista/XP, and there is also a portable version. You can get this tune-making app as a Universal Windows Platform (UWP) program for Windows 10 or later. Foobar2000 also has an app for both Android and iOS.
At first glance, the interface seems more basic than any other PC audio software. Some listeners in the year 2022 might be put off by a music player that seems like it was made for Windows 98. The adage says don't judge a book by its cover.
FooBar2000 is compatible with numerous audio file types, including MP3, AAC, WMA, OGG, FLAC, WAV, Opus, Speex, etc. It's useful for automatically importing metadata, ripping audio CDs, and opening compressed archives in formats like ZIP, GZIP, 7z, etc. Then, there is the plethora of shortcuts you can assign to keys on the keyboard.
Features:
It's free for everyone to use and modify.

All file formats are fully supported.

Features such as CD ripping and burning, player controls, and other deluxe options are included.
When I first heard the acronym AIMP, I immediately thought of GIMP, another great image editor. In contrast to the GNU Image Manipulation Program (GIMP), which the GNU Project created, this Windows music player is not affiliated with GIMP in any way. The company launched the original version of AIMP in 2006, named after its creator, Artem Izmaylov.
Consumers who prioritize design will find AIMP the best music player available. It can do more than just play songs stored on the hard drive.
You may use AIMP's sleek user interface to manage your music collection, create personalized playlists, rip CDs, edit metadata, customize the look of your player, and much more.
Additionally, AIMP is a viable alternative if you want equalization in your PC player. This Windows music player lets you customize your listening experience with an 18-band equalization and various effects. Clients will value the removable playlist area and the ability to switch themes with the push of a button.
This Windows music player is compatible with virtually all standard audio file types. An audio converter, a sleep timer, and an alarm clock that you can even set to awaken a dormant computer.
Features:
It features a simple user interface.

Several playback options are provided.

You can easily locate songs from a list.

Supports the editing of music file tags.
Another free music player tool that may help you get your music library in order is MediaMonkey. It looks like a significantly improved version of WMP with many more features.
This alternative to Microsoft Windows Media Player has many of the same capabilities, including the ability to play a wide variety of audio formats, automatically tag audio files, synchronize files with devices, stream audio over a network, rip CDs, burn music to DVDs and CDs, convert audio format, regulate volume, and more. This Windows audio player has a jukebox that can be used independently of the main library, allowing users to play their music selection at events without re-adding it to the program.
Though it is primarily a Windows program, MediaMonkey also has mobile apps for both Android and iOS that may be used as wireless remote controls. There is also a premium upgrade to the free music player called MediaMonkey Gold, which adds a few more bells and whistles.
Features:
Assists with audio recording.

Automatically looks for and applies album metadata such as cover image, artist name, and year.

WiFi syncing works smoothly on both Android and Windows.

Changing metadata in music files is now possible.
VLC is the finest media player for Windows 10/11 right now (2022). VLC's most lauded feature is its ability to play video files. People's musical needs can, however, be satisfied by open-source software.
Users of VLC can instantly curate and share playlists from their local music collections over a network. In addition, it offers users convenient access to several online radio options. Besides the equalization, VLC's other audio management tools set it apart.
VLC is popular because it can play practically any music and movie format. It also includes several amazing extras and hidden features. VLC is a wonderful free music player because it has clients for almost all major operating systems.
Features:
It can play nearly all audio and video formats.

Provides a minimalistic design with customizable aesthetics.

There is no commercial content.

Offers a variety of playback options.
Are you looking for an explanation of what iTunes is? The most likely answer is "No." Apple's iTunes is not just a link between iOS devices and computers but also one of the best free music players for Windows 10/11 and macOS. Some users may be put off by how big an iTunes music player is, even though its versatility makes it a good option for meeting several needs.
iTunes can play music from your computer's hard drive and the iTunes Music Store. In addition to playing music, this free Windows program may also be used as an online music streaming app, provided you have an Apple Music membership.
MP3, WAV, AIFF, Apple Lossless, and AAC are only some audio file formats that iTunes can play. It also provides a simple means of organizing your music collection. As well as listening to music on your computer, you may share your music library with other devices on your home network using the "home-sharing" option.
Some features that come standard in iTunes' music player are an equalizer, a compact mode, and the ability to import metadata. The fact that iTunes has Apple's backing only adds to its appeal. As a result, enhancements and new capabilities are often implemented.
Features:
There's a built-in equalizer that you can use.

Provides support for importing metadata from music files.

In addition, it receives regular updates.
Windows Media Player
WMP is one of the best and most free music player software for Windows OS, and it's still included in Windows 10/11 as an extra feature because of how easy it is to use.
There are many different skins for WMP if you don't like the standard theme. You'll be able to recognize the new music player just by looking at the images, as they'll be displayed in real-time while the music is playing.
WMP can play a wide range of music files and several video and image formats. It allows you to organize your music library easily, create playlists, rip and burn music, etc.
The free music player also can import metadata from the internet. You can sync several portable devices with your music library using Windows Media Player. In the same vein as iTunes, WMP allows library sharing over a local network.
If you're still in the market for a music player and manager developed by Microsoft, we recommend checking out the built-in Groove software. The Windows app has recently seen a significant uptick in usage.
Features:
A wide variety of file formats are supported.

It's simple to use and features an uncluttered UI.

Offers a variety of playback options.

You can play videos as well.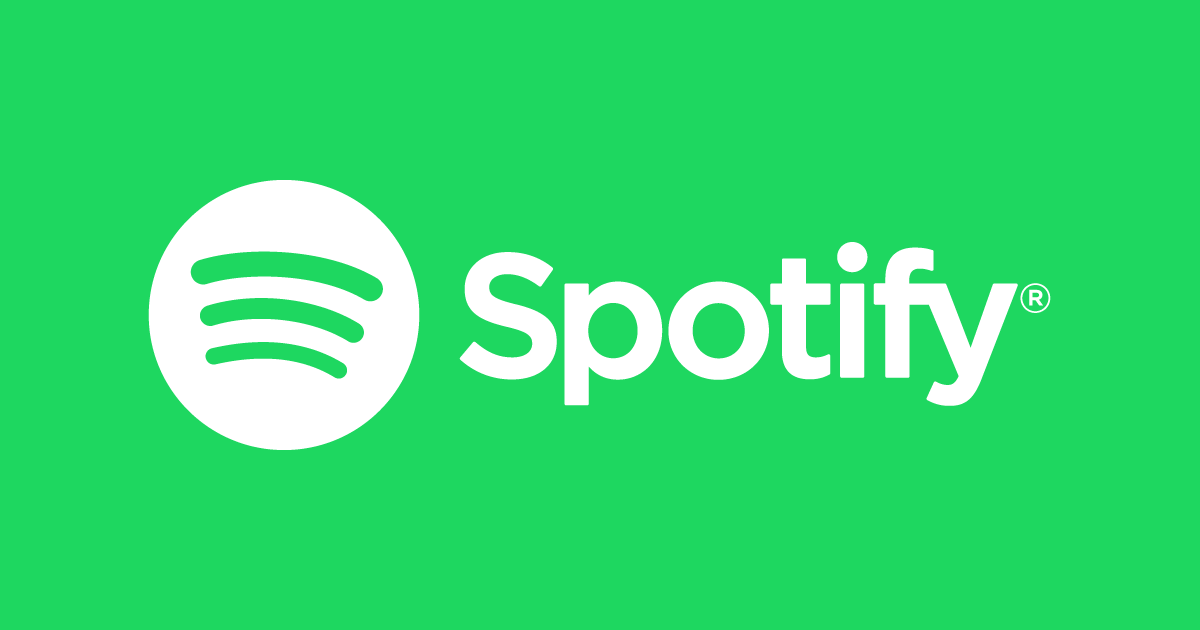 Many of you listen to music while on the go with the Spotify app, which is available for iOS and Android. You might not know this, but the Spotify desktop client can also function as a great Windows music player. In addition to playing locally stored music, it provides access to a vast library of songs available via the internet.
Spotify for Windows 10 and 11 syncs your account and adds "Friend's activity" to the right side of the screen, much like its mobile apps. The desktop app provides access to all functionalities as well. You can select a private session, listen to music stored offline, or tune into a podcast to give you a few examples.
Perhaps Spotify's most appealing function is its compatibility with local Windows PC libraries and its massive music library. Plus, it's a free Windows 10/11 music app.
The Spotify Windows client additionally offers the option to activate experimental features. It emphasizes streaming music above local storage, so you won't find as many songs as you've downloaded on other mp3 player apps.
It's also possible to listen to Spotify right in your browser, thanks to the Spotify Web Player.
Features:
Offers a variety of playback methods.

Includes a large music library.

Easily able to categorize and exchange music.

It can play music downloaded from the web and stored on the device.
Which is the best free music player for Windows 10/11?
Each top-tier music player for Windows 10 and Windows 11 has its strengths. Ultimately, it comes down to what features of the media player you find most appealing.
Dopamine may look like a basic music player, but it lacks the features of more sophisticated options like MusicBee, AIMP, and VLC. As an alternative, services like Spotify and iTunes serve as gateways into the world of online music streaming. There's also Winamp, which is a trip down memory lane.
It's up to you to choose the best Windows 10/11 music player. There is a Windows music player out there for everyone, whether you just want to listen to music, you need to manage a large music library, or you care more about the player's design than anything else.
Leave a comment below with your comments.
FAQs
In Windows 10 and 11, what is the greatest music player?
Some of the best free music player apps include AIMP, Foobar, and Spotify.
Is there a music player built into Windows 10?
In Windows 10, the music player known as Groove Music is the one you'll use most often. The good news is that Windows 11 comes with a brand new Media Player app developed by Microsoft.