More than a billion people are currently making use of Android devices. Multiple individuals have asked us how to speed up their Android smartphones by messaging us on our Facebook page. Numerous people wonder what causes Android devices to slow down over time gradually. Possible causes include garbage files, broken hardware, bugs, etc. Poor device performance is typically the result of programs running in the background. If you're using Windows, the task manager makes closing programs and processes a breeze. On Android, though, you cannot close apps in this way. Users can force quit programs by going into the Apps settings, but doing so is a tedious and time-consuming process. Use the app killers for android if you want to improve your device's performance and battery life. Application termination tools, often known as task managers, are available for Android and can potentially identify and kill running programs in the background.
10 Best app killers for android
To help you get the most out of your Android device, we've assembled a list of the best app killers for android.
If you need an app to free up space on your phone's memory and extend its battery life, try KillApps. Exactly what was that? When you want to close all of your apps at once, KillApps is a great choice because it's available in the Google Play Store. KillApps can end not just the foreground program but also any associated services or processes.
The app's name reveals a great lot about the app. A helpful Android software, Task Killer, details all of the running programs and services in the background. Using Task Killer, you can end all tasks running in the background at once. Auto Kill also prevents recently terminated programs from relaunching.
The Android Task Manager app is a useful and lightweight tool for closing unwanted processes in the background. While there isn't much information provided in the Google Play Store listing, the software appears to include everything needed to manage Android apps. With just one touch, you can end any currently active programs. You can also create a whitelist of programs that shouldn't be closed.
Greenify does not completely terminate the program but rather puts it into a dormant state until the user manually wakes it up. However, Greenify is tremendously popular among Android users, and it can identify and put into sleep mode misbehaving or idle apps. It also reduces delays and conserves battery life considerably on your device. While the software works on both rooted and unrooted Android handsets, it runs more smoothly on a rooted device.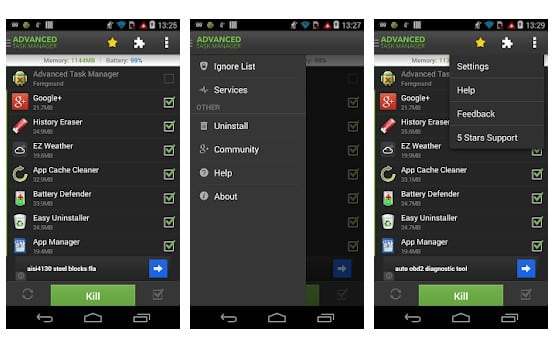 Advanced Task Manager is one of the best and highest-rated task managers for Android available in the Google Play Store. The RAM cleaner, app killer, and battery optimizer are just a few tools that allow this software to serve as an Android optimization suite. The Advanced Task Manager has two manual and automatic modes for closing programs. In the manual mode, you can terminate applications, and games, set up recurring terminations, terminate at startup, and so on. When set to Auto, the program closes all running tasks in the background.
Compared to the other programs discussed in the article, Castro stands out. It's a program that tells you all there is to know about your gadget. Castro is a suite of tools that allows you to track various metrics, including battery life, CPU activity, WiFi data, sensor data, and application data. You can use the program to spot complex process applications. But the programs have to be closed by hand.
Skit is the best Android app manager for those who just want to get things done. Detailed data about all installed apps, both user and system, may be accessed with this Android app. In addition, it allows users to stop any service or feature at any time.
One of the most comprehensive tools available, SystemPanel 2, is a powerful task manager that gives you access to your whole system. Currently, running programs' power, processing, and wake lock usage are all displayed and logged. It also analyzes the current battery status. In addition, you can turn off certain services for programs, packages, and the like.
Among these applications is Servicely, which gives you absolute control over the on/off status of all of your device's services. All programs now operating and those that have been installed are displayed. Servicely is, however, only available for rooted Android devices.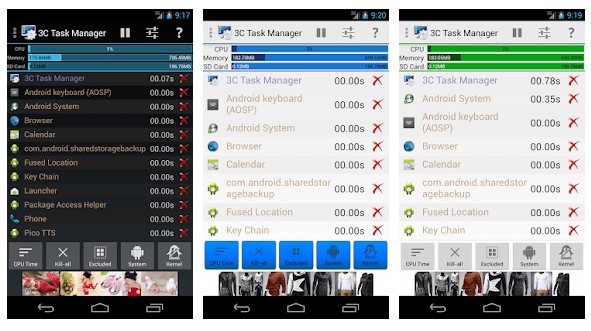 Although not widely recognized, 3C Task Manager is a top choice for managing multiple Android apps simultaneously. When terminating apps on non-rooted devices, 3C Task Manager was the only app to use the Accessibility services. You can realize the app's full potential on a rooted handset. You can kill processes and applications, inspect the kernel, and so forth.
Thus, if you want to speed up your Android device, these are the best app killers for android to test. Tell us in the comments if there are any more programs out there that work similarly.